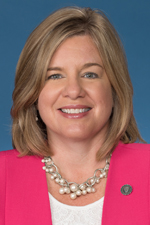 Rebecca Ruffing
Director of Public Relations
Contact Rebecca Ruffing
315-866-0300 x8259

Public Relations, Classroom Administration 220

Hired in 2005
Education
B.S., Jacksonville University;
M.S., SUNY IT at Utica/Rome
Bio
Rebecca Ruffing is director of public relations at Herkimer County Community where she is responsible for branding, marketing and communications, media relations and outreach, website content, advertising, publications and photography. Ruffing serves on numerous college committees including Executive Council, Marketing and Recruitment, Strategic Planning, Website/Portal, Commencement and several ad hoc committees.
Ruffing joined Herkimer College in 1998 as assistant to the president, and was appointed assistant director of public relations in 2005 and director in 2008. She previously served as assistant director of financial aid at SUNYIT, college relations associate and admissions counselor at SUNY Morrisville, and marketing specialist for GPO Federal Credit Union.
A lifelong resident of the Mohawk Valley, Ruffing is committed to the vitality of the community and supports many non-profit and community organizations. She is actively involved in the activities of the Genesis Group, was appointed as a member of the Genesis Group Board of Trustees in 2014, and currently serves as secretary. For several years, Ruffing was a member of the American Heart Association's Heart Run and Walk organizing committee and served as chair of the VIP and 500 Club events. As a member of the Leadership Mohawk Valley Class of 2010, Ruffing participated in an effort to raise funds and increase awareness for an accessible playground for the Arc, Oneida-Lewis Chapter. She is also a volunteer for the Boilermaker and the Herkimer County College Foundation.
Ruffing is a graduate of Whitesboro High School, and holds a bachelor's degree in marketing from Jacksonville University and a master's degree in business management from SUNY Institute of Technology. In 2001, she was awarded the SUNYIT Alumni Association Award for Distinguished Service to Profession and Community.
Ruffing and her husband Jim reside in Whitesboro with their twin sons, Zachary and Joshua.