President's Inauguration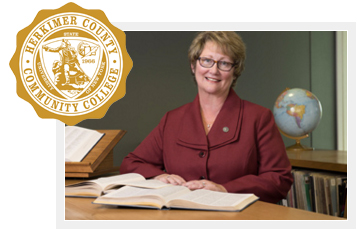 April 8, 2016
An inauguration ceremony was held on April 8, 2016 to formally install Herkimer College's fourth president, Dr. Cathleen C. McColgin.
Chairwoman of the Board of Trustees Isabella Crandall opened the ceremony by welcoming more than 400 participants and guests to the traditional academic ceremony in the Sarkus-Busch Theater. Those in attendance included current and former college trustees, faculty, staff, administrators, students, emeriti, retirees, community leaders, college delegates, and McColgin's family and friends.
Members of the Michael Pliseck VFW Post 4915 of Herkimer presented the colors while adjunct instructor Jose Lopez sung the "Star Spangled Banner." The invocation and benediction were delivered by The Reverend Victor McKusick, interim pastor at Whitesboro Presbyterian Church and member of the Herkimer College class of 2016.
Greetings and congratulatory remarks were delivered by Academic Senate President Jeffrey Steele, Student Government Association President Rhiannon Steele, Provost Michael Oriolo, and Herkimer County Legislature Chairman Bernard Peplinski Sr. In her remarks, Rhiannon Steele said, "Dr. McColgin is here for the students. She has a passion for seeing students excel in their lives and careers and is constantly looking for ways to help them become successful. Dr. McColgin truly believes that the success of a college depends on the success of its students."
Linda Alfieri, professor and director of nursing at Cayuga Community College, and Dr. Dennis Golladay, former vice chancellor of community colleges for the State University of New York and current president of Harford Community College, also spoke during the ceremony.
A special musical selection, "For Good" by Stephen Schwartz, was performed by a vocal trio, Megan Breit of Frankfort, Haley Dugan of West Winfield, and Emily Schumske of Herkimer. The three students are all members of the Class of 2016 majoring in Communication Arts: Music Industry. They were accompanied by adjunct instructor of music Ann Kocuba.
Representing the State University of New York, Senior Vice Chancellor for Community Colleges Johanna Duncan-Poitier conducted the investiture by placing on Dr. McColgin the presidential medallion and chain of office, thereby signifying the authority of the office.
In her inaugural address, President McColgin said, "An inauguration is an important milestone in the history of the institution. It is an opportunity to collectively pause and reflect on our past, and to celebrate our history, our traditions and our achievements. It is also a time for the campus community to look forward to the future through a new lens, with a renewed spirit and enthusiasm."
In her closing remarks, Chairwoman Crandall said, "On behalf of the Board of Trustees, I am honored to publicly congratulate Dr. McColgin on this important milestone in her career. In the short time she has been here, she has shown tremendous leadership, energy and inspiration, which she will undoubtedly continue to deliver to our institution and people we serve."
Dr. McColgin's appointment was approved by the State University of New York Board of Trustees in January 2015, and she began her tenure as president on June 1, 2015.
"Dr. McColgin is the right leader to build on Herkimer College's strong foundation of academic excellence, providing an encouraging and quality experience for our students, faculty, and staff," said SUNY Chancellor Nancy L. Zimpher. "I am proud to officially welcome her as president on behalf of the entire university system."
Dr. McColgin previously served as provost and senior vice president at Onondaga Community College from 2008 to 2015, where she was responsible for providing leadership and oversight of all educational services including academic departments and programs, faculty professional development, student academic support services, and instructional design and delivery. She also served as provost of Cayuga Community College's Fulton campus from 2001 to 2008, and as a faculty member and coordinator of Nursing Arts Laboratory at Cayuga from 1988 to 2001.
A registered nurse, Dr. McColgin served as an officer in the United States Army Reserve as a member of the 376th Combat Support Hospital, obtaining the rank of captain. She holds an A.A.S. in Respiratory Therapy from Washtenaw Community College (Ann Arbor, MI); A.A.S. in Nursing from Cayuga Community College; B.S. from Syracuse University's College of Nursing; and an M.S. in Nursing and Ph.D. in Higher Education from Syracuse University.
Preceding Dr. McColgin as president were Dr. Ann Marie Murray (2008-2014), Dr. Ronald F. Williams (1986-2008) and founding President Robert McLaughlin (1966-1986).