The Modern Monet: Milnalis Diese '17 never let near blindness cloud her vision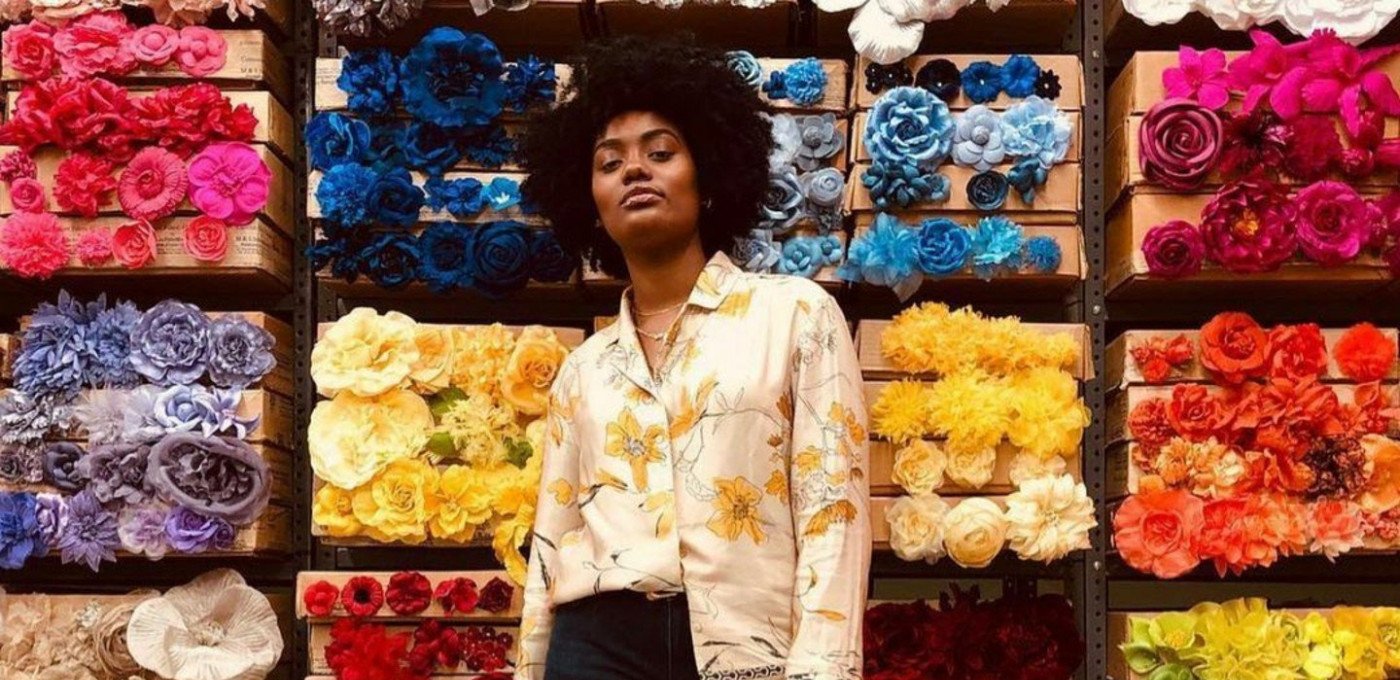 Milnalis Diese '17 made a name for herself at Herkimer College for being a good student, who was well-liked and excelled in the classroom. But what many didn't see was Diese's struggle with her eyesight. At age 16 she was diagnosed with keratoconus, a rare eye condition that causes the tissue on the cornea to thin and bulge outward like a cone. The condition was only going to get worse.
"They weren't very motivational," Diese said of her doctors. "They told me I shouldn't even go to college, because it would be a waste of my mom's money. As a 16 year old from the Bronx, trying to get out of this generational cycle, it was very hard. I felt very defeated, but my mother was the one who said, 'No, you're going to do this and you're going to get it done.'"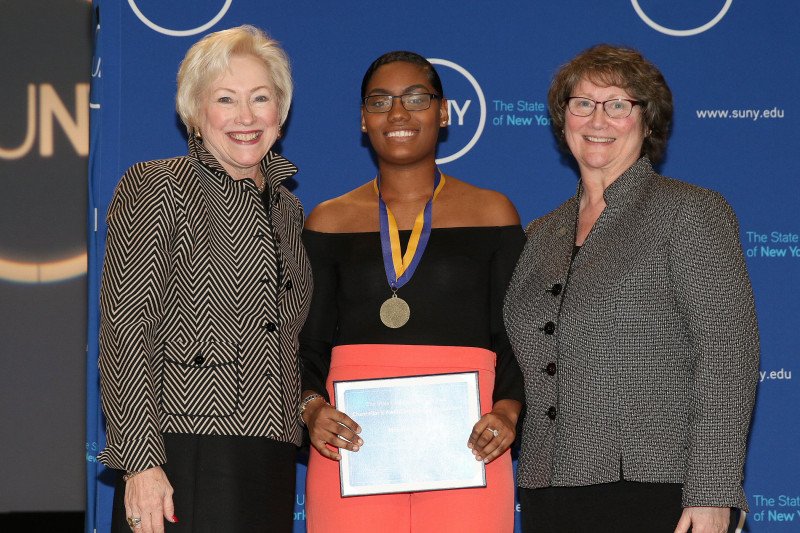 By the time she arrived at Herkimer College, Diese was only six points away from being legally blind—a secret very few people knew. Outwardly, Diese said she had an upbeat and peppy attitude, and was well known for her sense of fashion—only fitting for a fashion buying and merchandising student. But Diese recalled the many tears and sleepless nights she had in her on-campus apartment behind the scenes while she tried to navigate her blurring world to study and do her work.
"I should have told [my professors]. I probably could have gotten my tests printed out larger or something similar. But nobody knew," Diese said. "I kind of liked people not knowing, because I didn't want them to just see that side of me. Even after Herkimer, I didn't tell anybody, because I didn't want to be viewed as just a disability. I wanted to be viewed by my accomplishments."
With the help of a close group of supportive roommates and friends, Diese not only made it through her two years at Herkimer, but was invited to join the Phi Theta Kappa international honor society, was a peer tutor, a student ambassador, and a resident assistant. She graduated at the top of her class and was awarded the SUNY Chancellor's Award for Student Excellence.
After graduation, Diese headed back downstate to Manhattan and attended LIM College, a fast-paced fashion business school. Diese said going from Herkimer's small campus to a sprawling city school, where the campus is made up of several buildings on different city blocks, was initially overwhelming, but she knew she had to work hard and push forward. She held down required internships with high-profile clients, worked a second job for income, and attended her classes. Diese said it was a big challenge, especially with her eyesight still in jeopardy, but she didn't want to quit.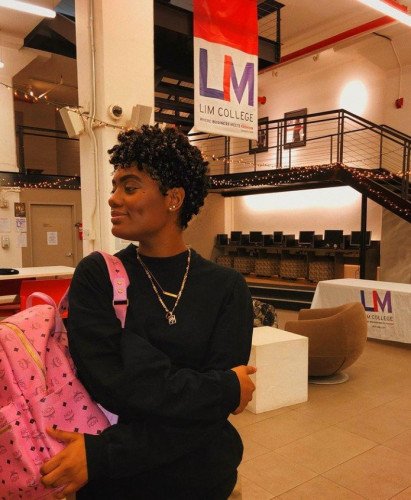 While she knew graduation from LIM was coming up, her keratoconus loomed over her shoulder, compounding in severity every year. Her optometrist estimated she would lose her eyesight completely by age 26. Diese said she knew she needed to have surgery to stabilize her vision, but worried about the funds. The collagen cross linking procedure, which wasn't covered by her health insurance, would cost about $5,000 she didn't have.
Her best friend, Diana D'artnay, who Diese met while attending Herkimer College, suggested she set up a GoFundMe account. Diese said she slept on the idea for about two weeks, hesitant to let the world into her personal struggles, before finally setting up the fundraiser.
To Diese's surprise, donations began flooding in. Old friends, classmates, professors, and employers all rallied behind her. Names of people she had met only once showed up on the list of donors, leaving what they could and offering their well-wishes. It only took two days for Diese to raise the $5,000.
"That was really surprising," Diese said. "I knew people believed in me, but I didn't know they believed in me to that extent. That was the biggest eye-opener for me."
The young artist quickly booked the surgery appointment for December 2019, to happen only a week after her graduation from LIM. After Diese made it through her hardest semester at LIM—she worked her required internship Monday through Thursday as a traveling merchandiser for fashion company Max Mara, attended in-person class on Friday, and worked a retail job on the weekends—she was extremely nervous for her procedure. She feared the worst, like never recovering.
When the procedure was finished, Diese spent two weeks in near darkness due to light sensitivity. It was in this time of personal reflection that she said she heard a calling.
"When I was going through my healing process, I can vividly recall hearing God's voice—because that's what I personally believe in, but I don't push my beliefs on anyone else—and having him tell me, 'OK, now that you have your eyesight, what are you going to do with it?'," Diese said. "'I created you to create, so now you need to help others.'"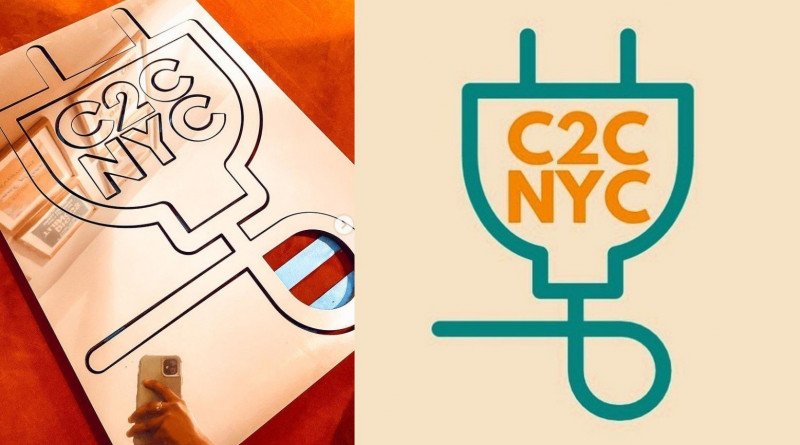 Diese knew there were creators and makers like her, budding professionals looking to get their shot. And those people could prosper if they worked together to make one another stronger. Over the next week, she brainstormed her next moves, and everything became clear. She had a company name, a mission statement, and a business plan by January 2020.
Diese launched Created2Create, LLC, a networking company that aims to connect people from all sorts of industries worldwide, organizing panels, workshops, mentorship programs, and more. The business does most of its outreach through Instagram, where Diese said she highlights other makers, whether they be traditional artists, chefs, marketing designers, or anyone who makes something. Created2Create also develops branding kits for aspiring influencers and holds virtual panels and events.
"The end goal is to throw events globally, but obviously we can't do that at this point due to the pandemic," Diese said. "But when I do host these virtual events, I've had people tune in from all over the world—Australia, Europe, all across America. It's been really cool seeing the community grow."
Diese's story began to circulate in the news. She was profiled in News12's Best of the Bronx series and BaskNewYork.com's community spotlight, had a Q&A published with EveryStylishGirl, LLC, and was featured on podcasts with both Julio Taku and Self Soul Convos.
The biggest highlight may have been when she was invited onto The Drew Barrymore Show, where the famous actress surprised her with an apartment makeover. Diese had been living in her mom's apartment in the Bronx with her two younger sisters—who are also looking to attend Herkimer College for Early Childhood Education and Business—and Barrymore said she wanted to give her a space to inspire her work. The television episode aired in November 2020.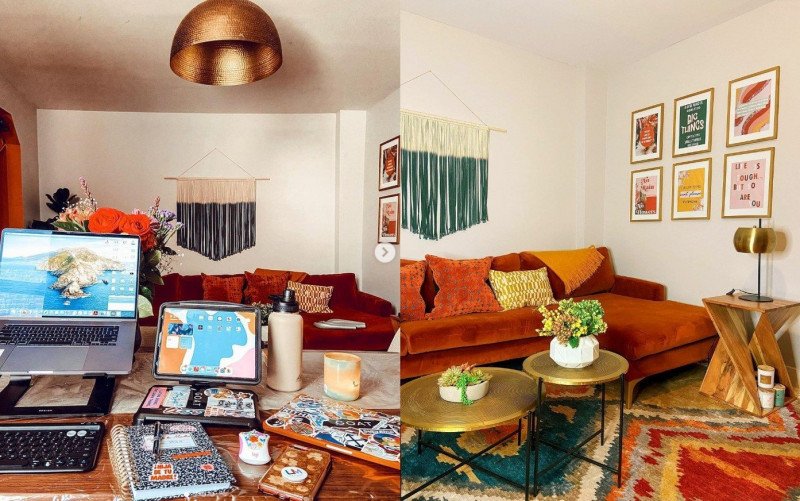 "I'm still in shock by that," Diese said. "They made it seem like a competition or there were more people involved than just me. It was a huge surprise—I had no idea what they were actually doing."
Now, Diese is focused on running her company and working as an independent social media manager for various businesses—over 20 and counting. She also recently landed a job with Converse as a men's shoe designer. But even with all of her new experiences and personal growth, she said she still loves Herkimer College.
"It's because when I was there as a student, they genuinely connected with me and I'd genuinely connect with them … It was very much the fact that I found a family there."
---
This story was written by Kira Maddox, Herkimer College's public relations assistant. Contact her at maddoxkl@herkimer.edu.