Spotlight on the Class of '22, Maria Dellagatta
Maria Dellagatta, Human Services A.A.S. (Staten Island, NY), one of our virtual students, says that her Herkimer College online experience was not only highly personal but life altering.
"Although I was a virtual student, I felt as if I was a student who lived on campus. I loved being accepted by the General's family," Dellagatta shared. "The faculty was always supportive of me during my time before, during, and transitioning (through college). I always know I have a seat here at Herkimer."
She also made a place for herself through her various involvement efforts, including serving as Vice President of the Herkimer College Student Government Association and as student ambassador and a member of the Alcohol & Other Drugs Board.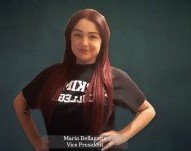 What would you say to a future student?
"Go! Be a part of Herkimer and take advantage of every event, every moment that someone asks you to help you better yourself. Take the advice, join everything, and live your college years at Herkimer the way they were meant to be – safe, fun, and most importantly to gain an education in a loving environment."
In one or two words, what does Herkimer College mean to you?
"Life changing."
Dellagatta will be attending Penn State to pursue her B.S. in Psychology.