Herkimer College English professor uses publishing experience to inspire in the classroom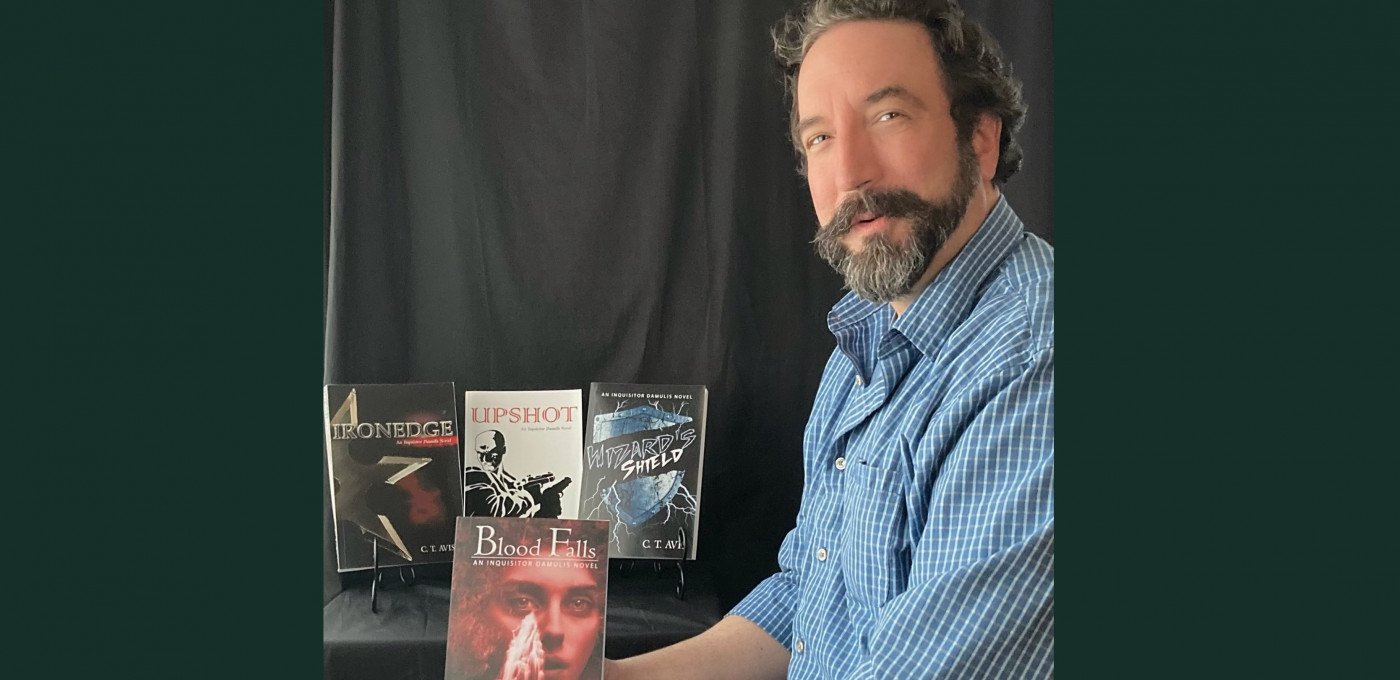 Christian Avis, Herkimer College assistant professor of English, chose to write his first novel during a surprising time—while house hunting in 2015.
"With all of the paperwork and research that comes along with that, sitting down to write might seem like the last thing I wanted to do," Avis said. "However, I had an idea that I wanted to try out and just started brainstorming and outlining. Before I knew it, Ironedge was drafted."
Ironedge is the first book in Avis' Inquisitor Damulis series. The series blends typical elements of the fantasy genre, like magic, goblins, multi-planes, etc., with the intrigue and noir of mystery. The books follow private investigator Damulis, an inscrutable drifter, as he works to solve various crimes—both mystical and earthly in nature—while navigating complex relationships, overcoming bureaucratic subterfuge, and more. Avis, a lifelong fantasy fan, said he took inspiration from authors like Robert E. Howard, R.A. Salvatore, Terry Brooks, Glen Cook, and Robert B. Parker.
After Ironedge, Avis, using the penname C.T. Avis, went on to publish three more books for the series: Upshot, Wizard's Shield, and his latest, Blood Falls.
"My readers like the fun and adventure in the books," Avis said. "There's humor, or at least wit. I still try to touch on serious issues for the characters' development and to up the stakes. The feedback from readers, so far, is that I've done that with care and sensitivity. Damulis is quite capable, but also imperfect. He's growing with each novel."
But the books haven't just been a success for his readers. They've also led him to have better interactions in the classroom. As an assistant professor of English, Avis teaches courses on the essentials of writing, mythology, literature, and science fiction and fantasy—all fields Inquisitor Damulis touches on. He said experiencing the story craft process firsthand, as well as all of his outside research in literature to prepare for his series, has given him more confidence in his teaching methods, as he has real-world experience that his outlook can lead to real results. Avis said he now sees himself as a mentor as well as an instructor.
"It's been one of the best things I could have done," Avis said.
Blood Falls, as well as the other books in the Inquisitor Damulis series, is available on Amazon.com and on Barnes & Noble.