Faculty Spotlight: Blake Pitcher, Associate Professor of Digital Graphics & Design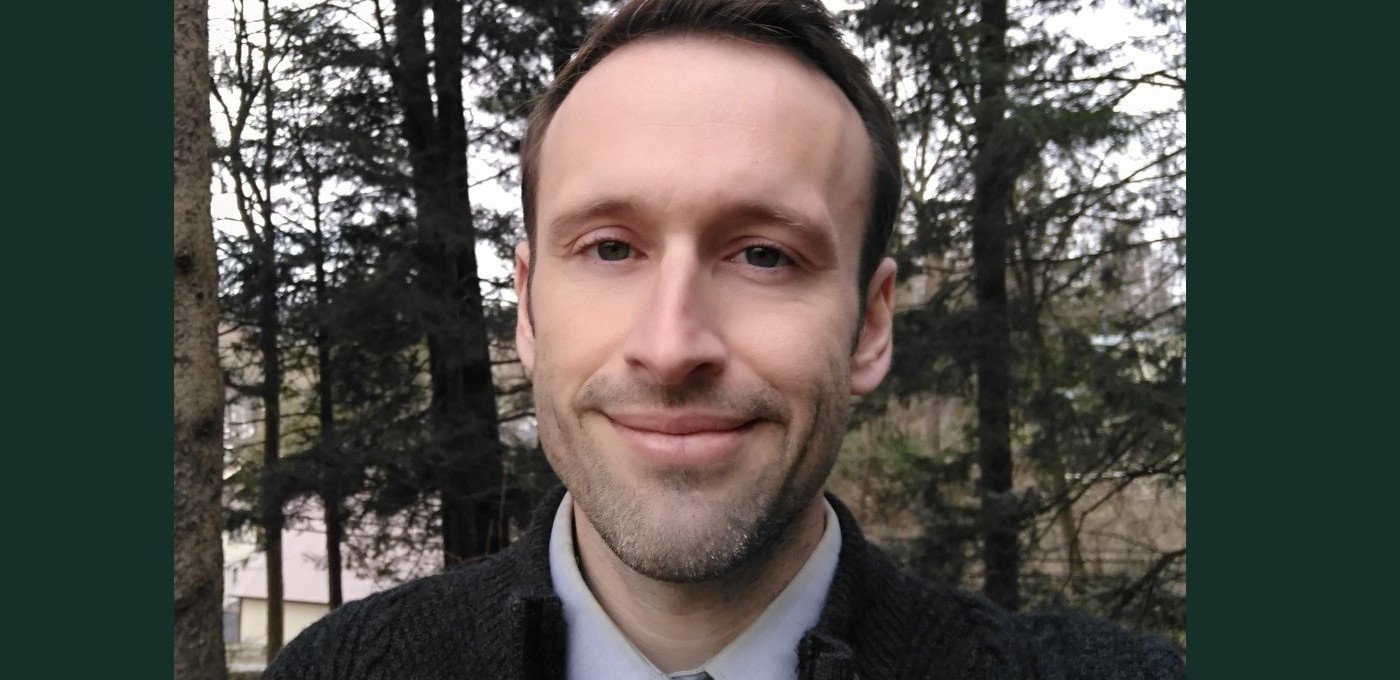 Blake Pitcher, Associate Professor of Digital Graphics & Design
Hiring Year: 2006
Education:
A.S., Herkimer County Community College
Professional and Technical Communication

B.S., SUNY Institute of Technology at Utica/Rome
Professional and Technical Communication,
Journalism Concentration
M.S., SUNY Institute of Technology at Utica/Rome
Information Design & Technology
Professional Affiliations/Board Memberships, Awards, etc.:
AIGA – The Professional Association for Design
SUNY Poly Communication & Information Design Advisory Board
Herkimer BOCES Media Arts Advisory Board
What inspired you to become an educator?
I never thought I would be working as an educator, honestly. I was working in online content in the early 2000s and taught a graphics class as a one-off experience. It was challenging and pushed me outside my comfort zone. A year or so later, a former teacher and mentor of mine at Herkimer College who had observed my class encouraged me to apply for an open instructor position. I did, and it changed the course of my professional life.
I am inspired to remain a teacher due to the academic freedom to develop courses and instructional approaches that help students learn in engaging, useful ways. As a graduate of Herkimer County Community College, I believe in the mission of community colleges and am grateful to be able to be a small part of it.

What do you think makes the student experience at Herkimer unique?
I often hear from former students that the quality of their education and the supportive environment at Herkimer rivals that of any school they have attended. I believe the faculty and staff at the College deeply care about the institution and the students as individuals.
What makes the Communication & Media A.S. program stand out from similar programs at other colleges? What can students expect to experience in the classroom?
We have fun. Faculty and students know each other. The Communication & Media program is designed to be hands-on and transfer-friendly. Students have many opportunities to get involved in a meaningful way, to develop a portfolio of work, and to have leadership and collaborative experience. It's unique because it's broad enough to expose students to a variety of communication and media pursuits, but focused enough so they have critical general education and communication credits they need to transfer into related programs.
What professional or industry experience and/or specialized training do you bring to the subjects you teach?
My early experiences in online content have greatly shaped my interests and passions. Before teaching, I was able to serve an integral role in multiple Associated Press award-winning projects and was invited to serve on a national Associated Press board for a year. I love writing, creating graphics, and publishing content, and I'm in an enviable position where I get paid to immerse myself in those passions and share them with others.
What other roles do you play at Herkimer College (i.e. club advisor, coach, etc.)? Why is it important to you to be involved in that capacity?
I'm really excited to advise the new online student newspaper, The General. It's an amazing opportunity for students to get published and develop useful skills. I also co-advise our award-winning arts & literary publication, Phaethon, with a focus on the layout and visual submissions. It's a valuable way for students to get recognized for their creative work. I am also a co-advisor for our five-star Phi Theta Kappa chapter, which allows me to work with some of the College's most accomplished students in scholarly and community endeavors.
What do students need to know in order to succeed in college?
As a baseline, attend every class and turn in every assignment. Be respectful and ask questions. It's okay to make mistakes if you actively learn from them. Find a club or organization on campus you can get involved in.
What are your hobbies or interests outside of work? Any professional or recreational accomplishments you'd like to highlight?
I read a lot, and I like to write fiction.