Doing Something You Love: Herkimer alumna finds work family with Disney Magic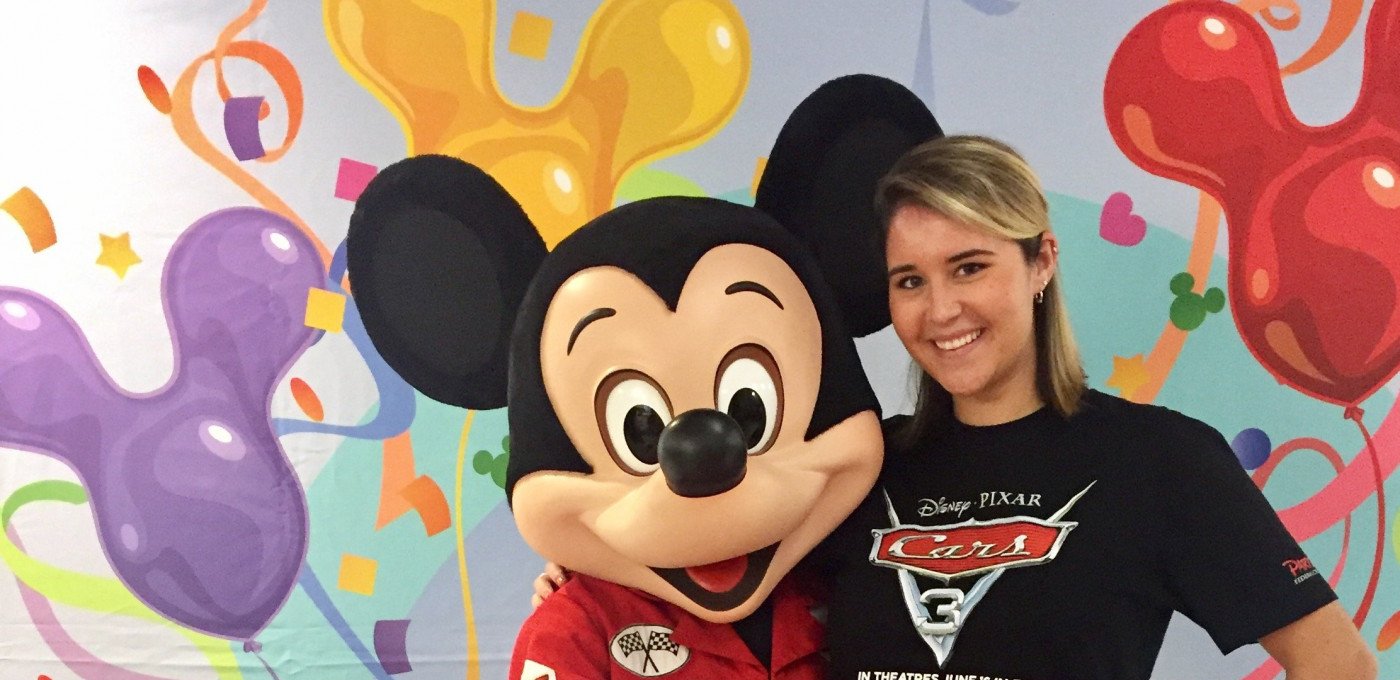 Herkimer College prides itself on being a college that treats its students like family. It was this personal touch that brought Courtney Tasco '14 to the campus.
Tasco played high school softball at Rome Free Academy and was looking to join the Generals team. She said Coach PJ Anadio '02 didn't mince words about what he thought of the college.
"He [Coach Anadio] talks about Herk like it's the best thing ever—and it is. It was the best two years of my life. I wish it was a four-year school," she said.
Other than Anadio's praises, it was the extra care she saw from the faculty that attracted her to Herkimer. She was able to meet up with some faculty members in the business program to see if it would be a good fit for her interests. After shadowing friend and fellow RFA alumna Stephanie Siriano '13 to her classes for a day and seeing the classroom atmosphere first-hand, Tasco said she applied immediately.
"At Herkimer, I was someone who stood out," she said. "Because of the small class sizes, I was able to ask questions, and professors would actually know me and know my work ethic." Being able to live with friends Delaney Buckley '14 and Alyssa Balfe '14 in Herkimer's apartment-style housing was an extra bonus.
As she prepared for graduation, Tasco said her academic adviser suggested the Disney Professional Internship program for recent graduates. While she began the program doing lifeguarding at one of the Florida resorts, she was able to transfer over to Partners Federal Credit Union, the not-for-profit financial cooperative that exclusively serves employees and families of The Walt Disney Company.
"My background was in banking, and I had done summer internships at AmeriCU Credit Union," Tasco said. "It turned out that Partners actually ran on some of the same systems as AmeriCU, so that really worked out well for me."
Tasco said she had obvious hesitations about taking a full-time job so far from home—although she was able to stay with her aunt and uncle for a time—but her coworkers at Partners made it all worthwhile.
"I had to stay after I found my second family—after my softball family," she said.
Partners also provides its employees with a multitude of enrichment programs. Tasco has competed in company volleyball and crew tournaments and is a regular on one of their softball teams—she said she couldn't stay away from her favorite sport.
Tasco works as a loan phone and web content specialists, working with a team of 12 to set up clients with loans for automobiles, home equity, mortgages, etc. Now going on five years with Partners, Tasco said she doesn't plan on leaving the Sunshine State anytime soon, instead hoping to grow within the company. She and boyfriend Evan recently bought their first house.
"With Coach PJ as an influence, I learned whenever you're doing something you love, you don't consider it work," she said. "We rely on each other, and that's just how we were on the softball team. At Partners, I'm part of a new team."
---
This story was written by Kira Maddox, Herkimer College's public relations assistant. Contact her at maddoxkl@herkimer.edu.