Herkimer College baseball promotes unity with 2021 team shirts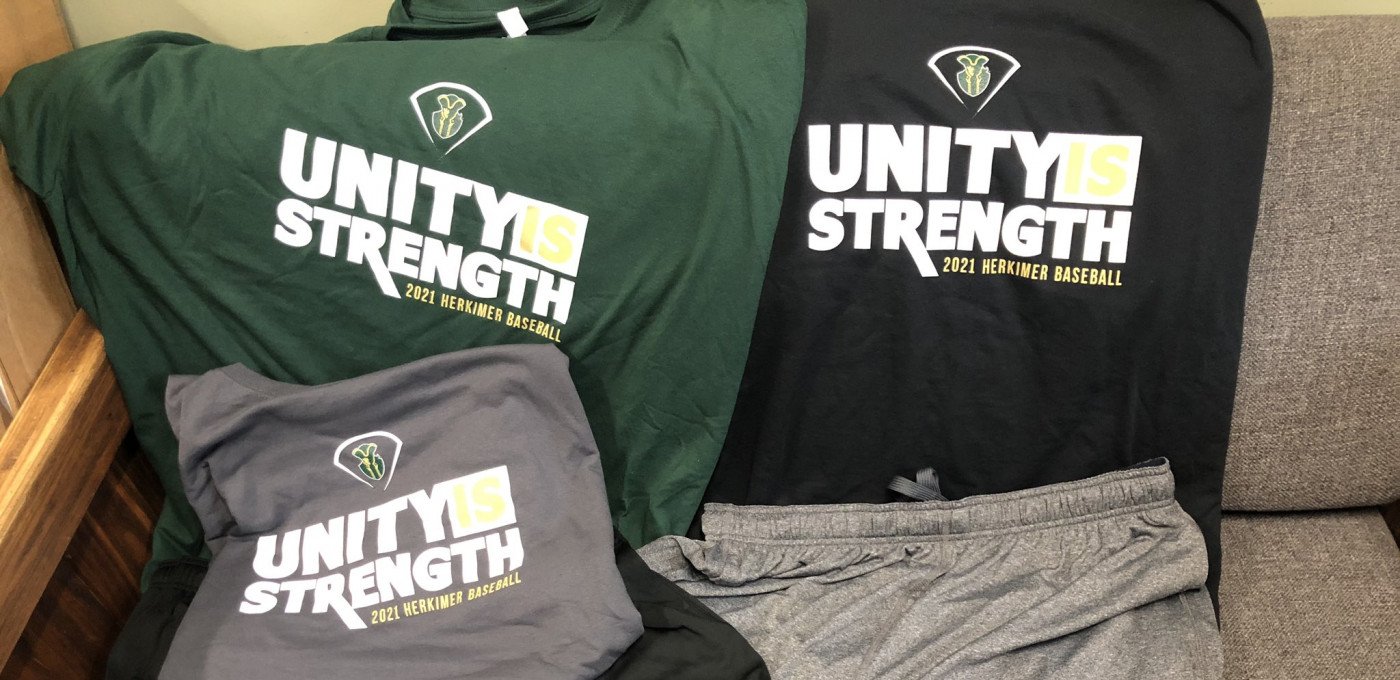 It's not uncommon for the Herkimer College baseball team to show off a unique slogan on their practice clothes, but the phrase for 2021 is something that can extend beyond the baseball diamond:
"Unity is Strength"
"I felt like as a country we're dealing with so much, and that slogan just kind of hit me. That's the answer," said head coach Jason Rathbun.
Rathbun said he uses the gear to help set the tone for the season, and he chooses a slogan based on the team and the expectations they may have for the year ahead. The 2020 practice shirts said "Tradition of Success," focusing on the commitment to excellence all of the Generals' teams exemplify on and off the field.
But with a wave of increased division sweeping the country over the last few years, it was important to remind his players of what they can accomplish by working together.
"Diversity is a great learning experience for our guys, and I've always found a lot of value in it," Rathbun said. "I think now we're just trying to bring that to light a little bit more, how much we can learn from each other."
Herkimer College has always been a diverse campus, bringing in students from all over the country and the globe – the baseball team has been no different. Student-athletes have flocked to Herkimer from Japan, South Korea, the Dominican Republic, the Virgin Islands and more over the years to play on the same field. Being exposed to different life experiences and cultures is what helps his students grow and gain confidence, Rathbun said.
"When you think about it, if we're all in it together and we're all united, we're going to be stronger. Not just in a team sense, but in a school sense, in a country sense, even the world."
On top of a rocky socio-political climate, there's also been the ongoing coronavirus pandemic to contend with, adding another potential layer of stress and anxiety. Rathbun reflected on his own lost Spring 2020 season, but took comfort knowing his senior players still have chances to go on and play for other teams in the future. He acknowledged there are so many others who have missed out on one-time life experiences, especially younger children.
"That's the best part about what we're doing right now," he said, referencing Herkimer College's current status of having students on campus. "We have these kids here, and they're practicing, they're playing, they're studying in the library, they're trying to make an experience. We're not trying to think about the spring ahead – if we'll have a spring, if we won't have a spring – we're just trying to enjoy the moment that we're in and be thankful."
---
This story was written by Kira Maddox, Herkimer College public relations assistant. Contact her at maddoxkl@herkimer.edu