Herkimer College student publishes first fantasy novel, 'Darkness Rise'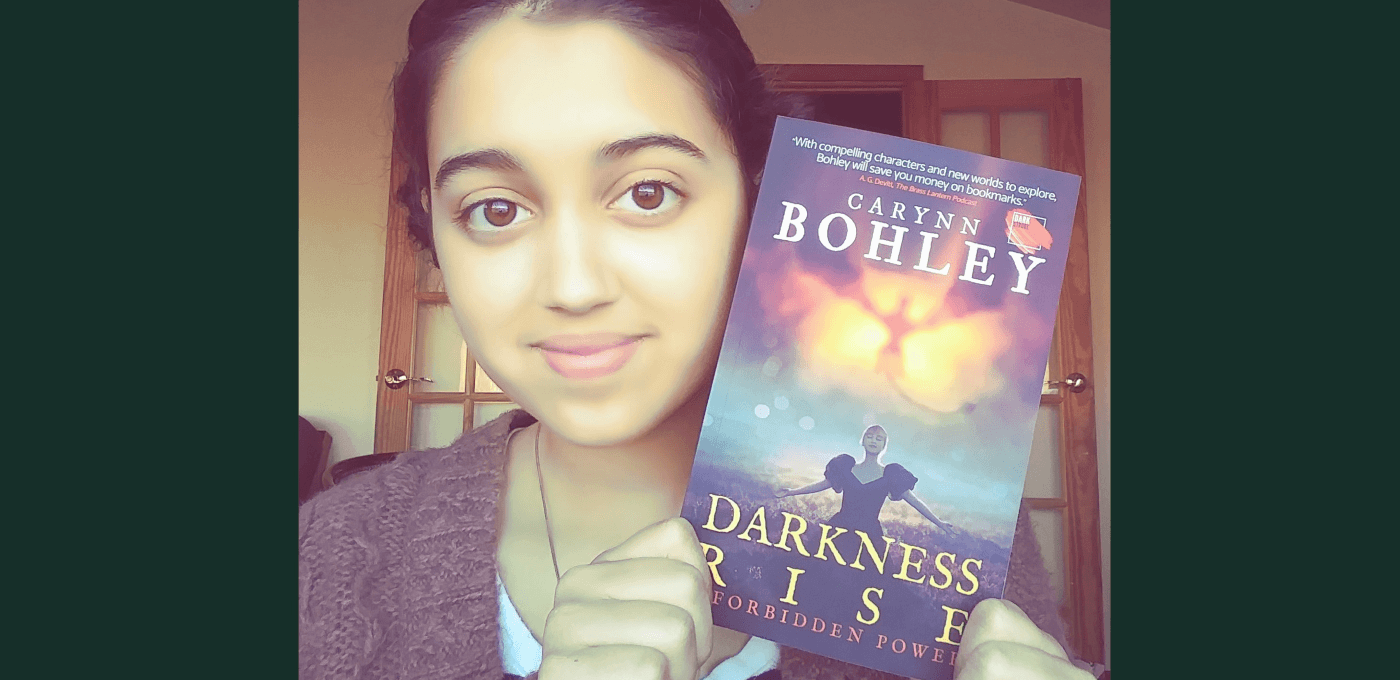 Herkimer College student Carynn Bohley, General Studies A.A. (Salem, New York), is the author of Darkness Rise, an upcoming novel about forbidden supernatural power set in the fantasy world of Mysticus. The book follows protagonist Kydessia Swift as she contends with her newfound abilities and goes on a journey in search of safety and self-discovery, grappling with betrayal, sacrifice, and a murmured threat of darkness on the horizon.
Bohley, who also won the SUNY Chancellor's Award for Student Excellence this year, spoke with the College about her longtime love for writing, working with publisher Darkstroke, and what she hopes readers will takeaway from her first completed fantasy work.
When did you start writing; has it been a longtime interest?
I don't remember ever not writing. I always am finding old books from when I was like 6 years old – they aren't very good, but they have some promise! […] The first book I ever finished, I was 8. It was called Jessie's Genie, and it was about a girl who finds a genie lamp and […] accidentally wishes that she had never met her best friend. So, it goes back in time, and they actually get caught in a time loop where things keep repeating over and over.
Since this has been a lifelong passion, can you describe what it is that draws you to writing as a medium?
I think I just get tired of reality sometimes. I have a great reality, but I always feel like there's something more – and I found that in fiction. I was a big reader for a long time. […] I started dedicating all of my extra time to writing.
Your previous works were all self-published, and this time you're working with a publisher. What made you decide to go this route, and how did you come upon Darkstroke?
I've actually always wanted to go through the traditional publishing route, but I just never really had an opportunity. […] This past summer I was querying agents for Darkness Rise and I participated in a Twitter pitching event called #PitMad. Basically, if an agent or publisher likes your tweet, which is a pitch of your book, then you're able to send them the manuscript. Darkstoke liked my tweet, I sent them the full manuscript, we did a Zoom call, and they offered me a contract.
Was there anything in particular that made you want to finish Darkness Rise, or was it just because you hadn't finished a fantasy novel before and said, "Listen, I gotta do it"?
I originally wrote it as a novella, either at the end of 2018 or the end of 2019. I liked the plot, but the writing wasn't very good, so I just sort of dropped it. Earlier this year I decided I wanted to pick it up again, and my family said I should try rewriting it as a full novel. I then wrote it in about two months, I think.
What was that like, going back and having to re-tweak and re-edit?
I wanted to add a lot of other things to fill out the plot. I think I sort of rushed the original version, so I wanted to have more character building. In the original, Kydessia left her hometown basically after the first two chapters, and this time I wanted to have a lot more about her typical life. So, in this version, she's actually in the place where she was born for almost half of the book.
That's a big change!
It was very different, but it ended up working out pretty well.
What sort of emotions or takeaways do you want readers to have with Darkness Rise?
I don't want to spoil anything, but the ending leads into a sequel, so it's sort of a shock what happens. I just want people to fall in love with the characters enough to want to see what happens next. […] I have a lot of themes that I think would be helpful to people, such as sibling love and sacrifice. I want to have characters that people want to emulate, and I hope that these characters can inspire people to try to better themselves, be more sacrificing, brave. Hopefully I can get that across.
Learn more about Darkness Rise at darkness-rise.com and follow Carynn Bohley on Twitter @carynnbohley for more updates on her work.
---
This story was written by Kira Maddox, Herkimer College's public relations assistant. Contact her at maddoxkl@herkimer.edu