Emergency Medical Technician - Paramedic A.A.S.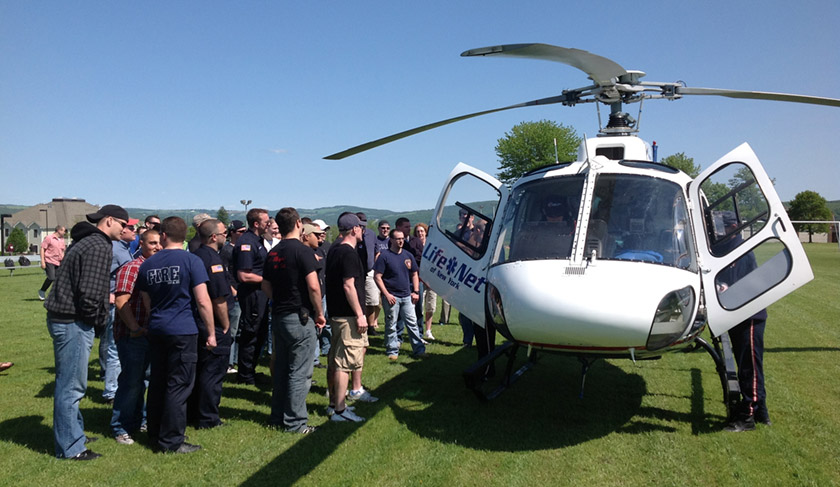 A unique partnership with Mohawk Valley Health System.
This unique Emergency Medical Technician - Paramedic A.A.S. degree program from Herkimer College—a partnership between Herkimer College and MVHS—provides the paramedic student the education necessary to function in an out-of-hospital setting as an emergency medical services professional. From motor vehicle collision trauma to heart attacks and strokes, you'll be prepared to provide immediate and often life-saving professional pre-hospital emergency medical attention.
Successful graduates will be eligible for New York State Certification, as well as certification with the National Registry of Emergency Medical Technicians.
Paramedics have fulfilled prescribed requirements by a credentialing agency to practice the art and science of out-of-hospital medicine in conjunction with medical direction. Through performance of assessments and providing medical care, their goal is to prevent and reduce mortality and morbidity due to illness and injury. Paramedics primarily provide care to emergency patients in an out-of-hospital setting.
Frankfort Fire Department Bunk-In Program
Herkimer College and the Village of Frankfort Fire Department (FFD) offer a housing option for students enrolled in the Emergency Medical Technician/Paramedic program at Herkimer College. Approved students will stay in housing provided by the FFD in exchange for 40-hours duty time or on-call hours of service per week.
To be eligible, students must be at least 18 years of age, be enrolled full-time in the College's EMT/Paramedic program, and maintain current NYS Department of Health certification as an EMT Basic or greater level provider. All certifications must be current and maintained throughout the duration of the housing contract with the FFD. Students participating in the program are required to maintain enrollment at Herkimer College and be in good academic standing. The FFD will select up to four students each year.
The objective of the program is to augment current volunteer emergency services staff and to mentor students considering a career in emergency medical services, allowing them to practice skills involving patient care and transport to medical facilities. Interested students must complete an application to the Frankfort Fire Department and be accepted as a member of the department to participate in the housing option.
For more information about the Frankfort Fire Department or the Bunk-In Program, contact Chief Conigliaro at (315) 894-8621 or FFD19@yahoo.com.
---
Curriculum
View our program course requirements as published in the College Catalog: Emergency Medical Technician - Paramedic A.A.S.
---
Career Opportunities
Graduates can expect good paying jobs with ambulance services, fire, police or rescue squad departments. Median annual salary in New York State is $34,040. Projected annual statewide job openings through 2012 are 250 new jobs and 120 replacement jobs.
---
Cost & Financial Aid
Herkimer College offers a quality and affordable educational experience. Learn about our cost of attendance and financial aid.
---