John Coveleski, J.D.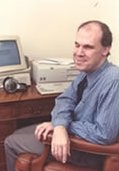 Class of 1985
John Coveleski Inducted: 2002
Social Science
John Coveleski has, throughout his life, exhibited the kind of commitment, courage, and integrity that demonstrates strength of character, love of family, and connection to community. Mr. Coveleski has embodied the community college philosophy of "access, opportunity, and excellence."
As a senior at Dion High School, he began taking course work at Herkimer College. Upon earning the Associate in Arts in Social Science at Herkimer, he continued his undergraduate studies at SUNY Albany where he received a B.A. in History. He graduated from Fordham Law School in 1992 with a Juris Doctorate degree and currently practices law with the Appellate Division, First Department in New York City. John attributes much of his academic and career success to the strong relationships built with faculty while studying at Herkimer College.