Computer Network Technician A.A.S.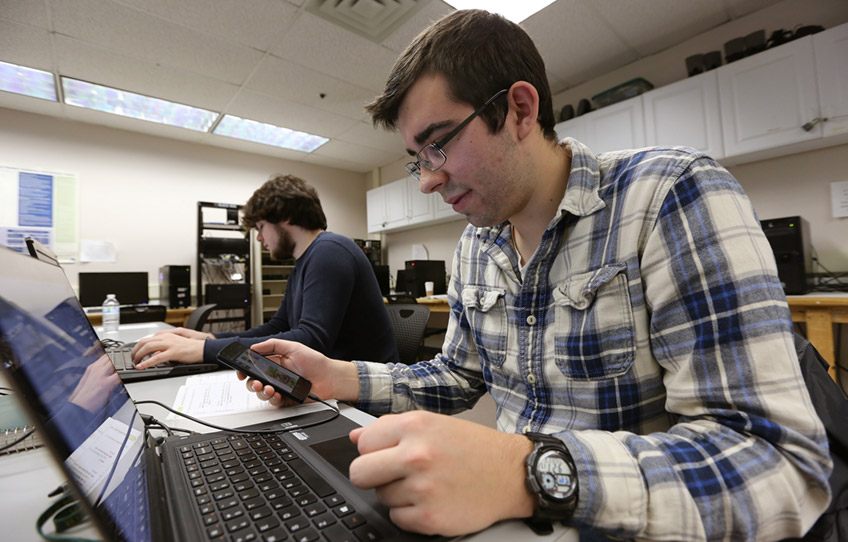 Apply Now
Request Information
Hands-on experience in computer network technology.
Prepare for a career in computer network technology, help desk services and PC repair. This program emphasizes hands-on experience as well as theory. All network and PC courses are 50% lab, and seniors complete either a topics course or fieldwork. This program prepares you (along with some additional study) for A+ Certification, Network+ Certification and various Microsoft Certifications.
As a graduate, you'll be prepared to:
Perform the day-to-day tasks of administering a PC network consisting of various switches, routers, printers and network operating systems
Plan and install a PC network
Perform help desk functions to support network users, including training and problem solving
Build, repair and upgrade PCs
Featured Graduate
Ryan Doyle, a corporate operations engineer for Google, remembers Herkimer as the place that started it all. "It's a funny story of how I got to Herkimer, to RIT, to Google, actually," Doyle recalls. "One of my best friends went to Herkimer for a year and told me what a great experience he had, and suggested that I enroll at Herkimer as well.
Doyle thanks his professors for their hand in his success. "The Computer Network Technician program at Herkimer is really excellent. Their program gave me a great foundation and I was able to use that and build on those skills when I went to RIT. I was ahead of certain people that may not have had that experience." He cites the hands-on experience and personalized attention that Herkimer offered as a contributing factor to his love for technology.
"Excellent teachers, excellent mentors." Doyle stresses. "You could tell they really cared."
Transfer Agreements
Below is a list of transfer agreements we have established (for our Computer Network Technician A.A.S. Program) with four-year colleges & universities to provide a seamless transfer of credits.
Programs also offered online are denoted by asterisk.*
Job Opportunities
Computer Technician
Computer Repair
Computer Training & Support
Network Administrator
End User Support
Program Map
Prior Felony Disclaimer
State University of New York (SUNY) policy prohibits Herkimer County Community College admission applications from inquiring into an applicant's prior criminal history. After acceptance, the College shall inquire if the student previously has been convicted of a felony if such individual seeks campus housing or participation in clinical or field experiences, internships or study abroad programs. The information required to be disclosed under SUNY policy regarding such felony convictions shall be reviewed by a standing campus committee consistent with the legal standards articulated in New York State Corrections Law.
Students who have previously been convicted of a felony are advised that their prior criminal history may impede their ability to complete the requirements of certain academic programs and/or to meet licensure requirements for certain professions. Students who have concerns about such matters are advised to contact the academic division office of their intended academic program.