Faculty & Staff Spotlights
Amy Roepnack
Assistant Professor of Fashion Buying and Merchandising
---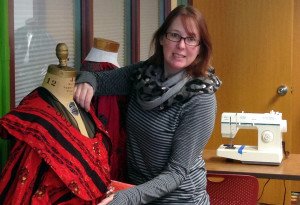 A creative person at heart, Amy Roepnack has always had an interest in art. After experiencing several different twists and turns in her career, Roepnack has landed her dream job as an assistant professor of Fashion Buying and Merchandising at Herkimer College.
Originally from Newport, NY Roepnack earned a bachelor's degree in fine arts with a concentration in photography from Purchase College. Throughout college, she worked at Gap Kids and Baby Gap as well as several other retail stores. She moved on to work at Munson Williams Proctor Arts Institute in the finance department. After seeing the artwork on display there, it became clear to her that she was not interested in a career in finance. She returned to school and earned a master's degree in Arts in Teaching from SUNY Oswego.
While working in retail, Roepnack became interested in merchandising because she enjoyed representing products to consumers in an artistic way. "We deal with art in our everyday lives, it effects everyone," Roepnack said. "We are all consumers and we don't realize the impact art has unless you really study it."
Roepnack was an art teacher for over 10 years in several public school systems teaching students of various ages. She then began teaching at Herkimer College in 2008 as an adjunct professor in fashion illustration because it tied in well with her art and business background. In 2012, due to budget cuts, she was laid off as an art teacher. She continued to teach as an adjunct and also took jobs as a supervisor at Herb Philipson's then as an administrative assistant for the Dean of Students, a position that gave her the chance to work with students outside of the classroom. Roepnack enjoyed assisting students with a variety of needs.
But Roepnack's real desire was to teach. She always loved teaching. "I think it's that enlightenment, that 'ah ha' moment when interacting with students that makes me grow as a person," Roepnack said. "Sharing and developing ideas in a creative setting is something that is lessening in school systems and I think this is something that is important for students to still have."
As a woman teaching fashion and merchandising, Roepnack said she can better understand the material since it is a field that is strongly geared toward women. Discussing topics such as fashion illustration comes easier to her because she is a female and is teaching a predominantly female population.
Most challenging for Roepnack was the experience of being laid off as an art teacher. "I had that feeling of 'oh no, what do I do now'," she said. "I realized after working in a business setting that I really do shine the most and connect with people more in the classroom." As a teacher, what is most rewarding for Roepnack is seeing her students wanting to learn more. "You can never teach everything," Roepnack said. "But building up the desire to grow up and be life-long learners is what is most important and beneficial." Having two children of her own, Roepnack feels that their desire to learn and explore is what is most important.
One piece of advice that Roepnack would give to her students studying fashion and merchandising is to be objective and willing to explore new things. "Don't be closed-minded," she said. "Be open to different interests and personalities. In fashion, it is important to think about what everyone likes, not just your own personal style."