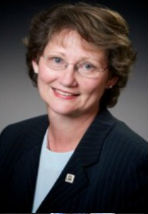 Cathleen McColgin, Ph.D.
President
Contact Cathleen McColgin, Ph.D.
315.866.0300 ext 8261

President, Classroom Administration 234A

Hired in 2015
Education
Dr. McColgin holds an A.A.S. in Respiratory Therapy from Washtenaw Community College (Ann Arbor, MI); A.A.S. in Nursing from Cayuga Community College; B.S. from Syracuse University's College of Nursing; and an M.S. in Nursing and Ph.D. in Higher Education from Syracuse University.
Bio
Dr. Cathleen C. McColgin began her tenure as the fourth president of Herkimer County Community College on June 1, 2015. Dr. McColgin previously served as provost and senior vice president at Onondaga Community College from 2008 to 2015, where she was responsible for providing leadership and oversight of all educational services including academic departments and programs, faculty professional development, student academic support services, and instructional design and delivery.
Dr. McColgin also served as provost of Cayuga Community College's Fulton Campus from 2001 to 2008, and as a faculty member and coordinator of the Nursing Arts Laboratory at Cayuga Community College from 1988 to 2001. A registered nurse, Dr. McColgin served as an officer in the United States Army Reserve as a member of the 376th Combat Support Hospital, obtaining the rank of captain. She has served on several college-wide, SUNY-wide, and local community boards and committees and is an evaluator for the Middle States Commission on Higher Education.