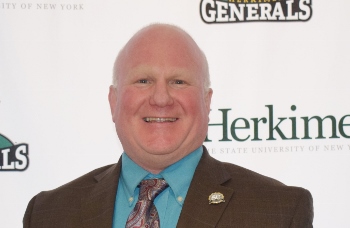 Matthew Hawes, Ed.D.
Dean of Students
Contact Matthew Hawes, Ed.D.
315-866-0300 x8276

Dean of Students, Classroom Administration 264

Hired in 2004
Education
B.S., Springfield College;
M.A., University of Maryland;
Ed.D., University of Vermont
Bio
Matthew Hawes was appointed Dean of Students at Herkimer College in June 2004.  Prior to coming to Herkimer College, Dr. Hawes was the Director of Housing & Residence Life at SUNY Delhi for seven years, and before that was the Assistant Dean of Students at Denison University in Granville, Ohio.

At Herkimer College, Dr. Hawes is the chief student affairs officer, and has supervisory responsibility for admissions, financial aid, international programs, counseling, health services, student activities, campus safety, judicial affairs, athletics, residence life and the Faculty-Student Association.  In this role, Dr. Hawes seeks to guide the mission of Student Services by complimenting the academic mission of the College in providing co-curricular services and activities that enhance the learning and development of Herkimer College students.

Having grown up in nearby Fort Plain, New York, Dr. Hawes holds a bachelor's degree in Physical Education from Springfield College (MA), a master's degree in College Student Personnel from the University of Maryland at College Park, and a doctor of education degree in Educational Leadership & Policy Studies from the University of Vermont.

Dr. Hawes resides in the Village of Herkimer along with his wife, Richella, and three children.