Herkimer College hosts Petticoats of Steel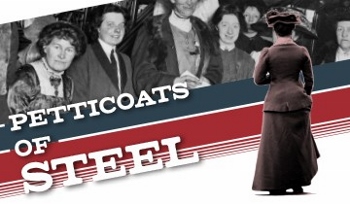 In recognition of the 100th anniversary of women's right to vote in New York State, the Herkimer College Women's Club is sponsoring the powerful production of Petticoats of Steel, performed by the Capital Repertory Theater, on Thursday, March 2 at 12:30 p.m. in the Robert McLaughlin College Center, room 288.
New York State's achievement for voting rights for women came in 1917, three years before the ratification of the 19th Amendment giving women the right to vote in national elections. Petticoats of Steel is a "Living Newspaper," a style of theatre which dramatizes social problems and issues in an effort to effect social change. Experience the battles for women's suffrage told in the voices of the brave warriors who fought them. Petticoats of Steel uses primary sources to tell the true stories of these legendary women of New York State—Susan B. Anthony, Sojourner Truth and Elizabeth Cady Stanton—and the roles they played in gaining voting rights for women.
Petticoats of Steel was written by Carolyn Anderson and Jill Rafferty-Weinisch and directed by Margaret E. Hall. This performance is free and open to the public. For more information, contact Jane Verri at (315) 866-0300, ext. 8648.