Men's Soccer All-Americans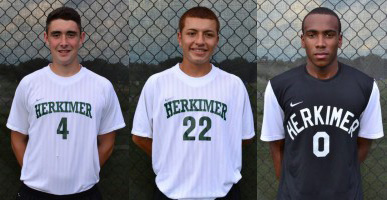 Three Herkimer County Community College men's soccer players were awarded NJCAA Division III All-American status.
Players named to the first team include defender Peter McAvoy #4 (Dundee, Scotland) and goalkeeper Triston Henry #0 (Scarborough, Ontario). McAvoy had a team-high 15 goals in 2013 and scored all three game winning goals in the national tournament. Henry had 13 shutouts in 2013, getting his final shutout against Suffolk County Community College in the National Championship game (1-0), played at Wehrum Stadium. Henry finished the season allowing only four goals, but saving 61.
Making it to the second team was midfielder Jimmy Calderon #22 (New Rochelle, NY). In 18 games Calderon amassed one goal and seven assists.
Herkimer finished the 2013 season on an 11-game win streak, helping the team to its third consecutive NJCAA Division III National Championship. Generals Head Coach Pepe Aragon has 16 seasons with a 297-27-1 overall record, 16 consecutive Region III Championships and seven National Championships.