Two Generals receive NSCAA All-America awards in Philadelphia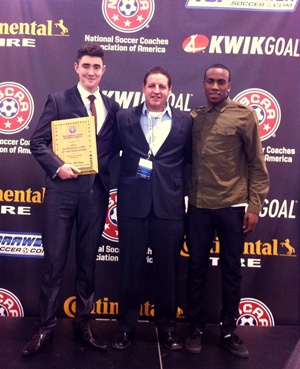 Herkimer Generals goalkeeper Triston Henry (Scarborough, Ontario, Canada) and defender Pete McAvoy (Dundee, Scotland) traveled to Philadelphia, PA to receive NSCAA All-America awards.
Henry, a two-time first-team selection, posted 13 shutouts for the season, conceding only four goals in 18 games. He has 25 career shutouts and allowed only nine goals in two years. Henry posted back-to-back national championship shutouts and was named to the national All-Tournament Team two years in a row.
"Triston is one of the best keepers I've ever coached," Head Coach Pepe Aragon said. "He is an unbelievable athlete with a tremendous work rate. In our National Championship game this year, he made two of the most amazing saves that I have ever seen!"
McAvoy was named both first-team All-America and NSCAA National Junior College Player of the Year. He started 18 games for the Generals and was the leading goal scorer with 15 goals, including three game-winning goals in the national tournament. McAvoy earned the Most Valuable Player award of the national tournament.
"Pete in an unbelievable leader who was not only a big part of our defense, but played a huge part in our offense," said Aragon. "I have never coached a player who made such an impact on both ends of the field!"
In two years at Herkimer College, McAvoy and Henry won two Mountain Valley Conference Championships, Region III Championships and National Championships, adding to the programs dominance, which has 10 currently, seven under Aragon. Their two-year winning percentage was excellent as well, winning 93 percent of games they played in (37-3-0).