Student Completes Honors Project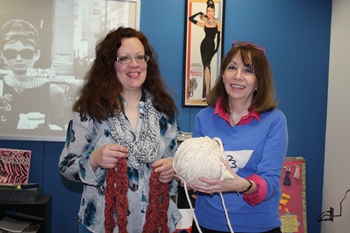 Alice Curtis, a Business Administration major from Mohawk, NY recently completed an Honors Program project "How to Finger-Knit" by presenting to several Fashion Buying and Merchandising classes on how to make a knit stitch as well as teaching students how to finger-knit a scarf. Curtis is a published author who wrote a knitting book "Knit Your Socks Straight" which is a follow up to "Knitting on two Straight Needles," (Storey Publishing).
Curtis said "Knitting began in an Eastern origin. There are no myths of knitting, it is fairly modern. The first knitting guild in France was in 620 A.D. Apprentices were taught for six years. Knitting was only for royalty, the church, or the rich." Stockings, berets, shirts and elaborate carpets were knit mostly by men. Curtis said knitters are counting all the time to make the Infinity Scarf or make one in various colors. She said her knitting is now done as a hobby. "I love what I'm doing."
Professor of Business Janice Jenny said "Alice came to do her honors program in class, and introduce students to knitting. Once the students got the hang of it, they knit the scarves by hand very fast. Many stayed an extra class to get their scarves done. She also gave them instructions on how to finger crochet," Jenny said.
Alice Curtis plans to graduate in May 2015. The Herkimer College Honors Program promotes the college's commitment to the pursuit of academic excellence and is available to students in all curricula. Students who complete the Honors Program are given special recognition by the college.
Photo: Honors Program student Alice Curtis and Professor of Business Janice Jenny prepare the yarn for Curtis's textile Honors Project to knit scarves by hand.