Weather Watchers Camp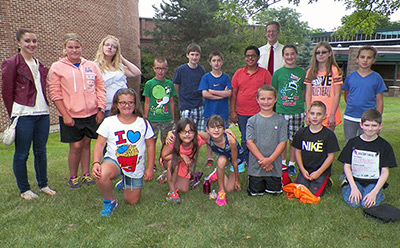 Herkimer, NY -- The Weather Watchers Camp, sponsored by Herkimer College and Herkimer-Fulton-Hamilton-Otsego BOCES, took place from Monday, July 28 through Thursday, July 31 at Herkimer College and was taught by WKTV meteorologist Bill Kardas. Scholarships were made possible by the Community Foundation of Herkimer and Oneida Counties to help students attend the camp. Fifteen children between the ages of 9 to 13 participated in the program that featured learning about weather and conducting science experiments.
Pictured are the students posing outside the College Center at Herkimer College. Front row: Riley Palen, Gabrielle Ross, Laura Culver, Blake Reese, Ryan Basel and Raymond Geise. Back row: camp helper Janina Rogers, Lillian Pashley, Rebecca Loring, Kyle Altrock, Raymond Boyko, Jeremiah Boyko, Arlington Carbajal, WKTV meteorologist Bill Kardas, Zachary Flint, Kara Boehm and Kristina Donets.