Learn
» Programs & Majors
Sports & Recreation Management A.A.S.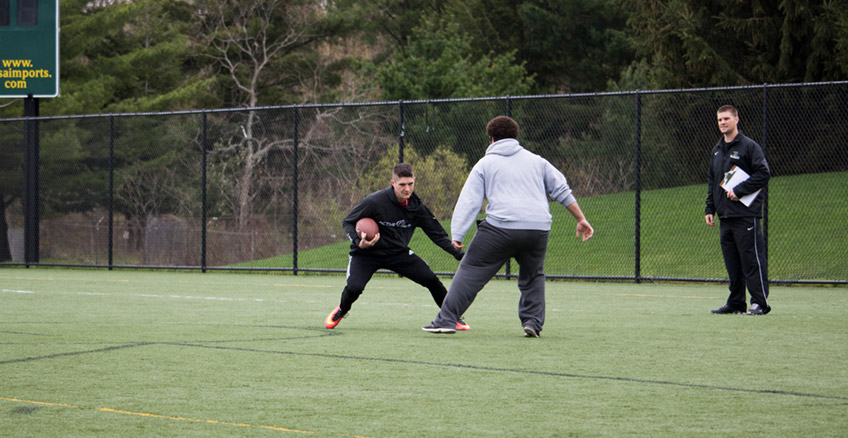 Apply Now
Request Information
Hit the ground running in the business of recreation.
Develop the skills you need to obtain entry-level positions in public and private recreational facilities. The program features coursework in business, health, recreation and liberal arts.
You'll be prepared to:
Own and operate a small business in a sports or recreational field
Coach a variety of sports
Plan and schedule recreational activities
Implement recreational programs at treatment facilities
Provide recreational and leisure services to the general public
Graduates find employment at resorts, golf courses, fitness centers, sporting goods stores, campgrounds, parks, recreational departments and youth services. Students have also continued their education at SUC at Brockport, SUC at Cortland, Ithaca College and St. John's University.
Featured Graduate
Olivia Danosky is a Nike Specialist at Footlocker's flagship store in New York.  As the "Lead Athlete" she is in charge of all of the other Nike Athletes at the location.  She also works for the Heisman Trophy office.
Danosky attends weekly meetings at Nike headquarters to review logistics and strategies.  As a Nike Lead she ensures her team is up to par and that employees and customers are aware of the innovation and technology that Nike consistently puts into their product.   Danosky was selected from thousands of candidates for the brand new position that she describes as being similar to an entry-level corporate job.
"I am in love with Nike and everything they stand for," Danosky says. "So I feel honored to be in this position."
At the Heisman office, Danosky works with the president and executive director of organization, where she handles accounts for over 500 charities. On the actual weekend of the event, she helps put on the entire Heisman show, attending the ESPN announcement and bringing the finalists to their hotels.
Danosky credits Herkimer with giving her experience working with diverse groups and handling life after college.  She is also a proud member of the college's first women's softball team to win a national championship. "Most importantly, my coach taught me that no matter how bad things get, if you are consistent and stay focused--you will accomplish your dreams and so much more."
Transfer Agreements
Below is a list of transfer agreements we have established (for our Sports & Recreation Management A.A.S. Program) with four-year colleges & universities to provide a seamless transfer of credits.
Programs also offered online are denoted by asterisk.*
Job Opportunities
Fitness Coordinator
Equipment Manager
Golf Course Management
Youth Program Director
Parks Manager
Coach
Recreational Center Director
Sports Facility Manager
Athletic Director
Fitness Trainer
Director of Intramural Sports