Learn
» Programs & Majors
Physical Education A.S.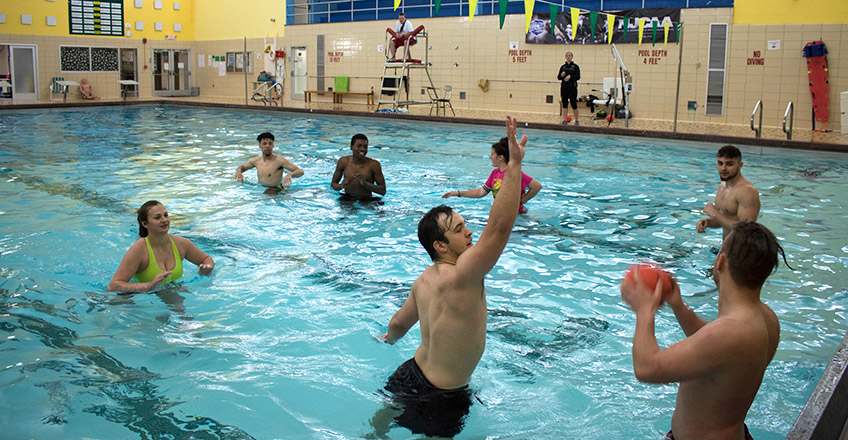 Apply Now
Request Information
An emphasis on professionalism, sportsmanship, health awareness and extracurricular activities.
The Physical Education program at Herkimer College readies you to transfer to a four-year college or university. The curriculum emphasizes professionalism, sportsmanship, health awareness and extracurricular athletics activities.
As a graduate you'll be prepared to:
Write and develop a lesson plan
Demonstrate and develop leadership skills
Analyze individual athletic skills and correct common errors
Demonstrate a basic knowledge of history, rules and strategies
Instruct and demonstrate athletic skills
Career Opportunities/Transfer Information
Students have transferred to colleges and universities such as Syracuse, Penn State, Adelphi, Hofstra, Rhode Island, SUC at Cortland, Ithaca, Springfield and Bowling Green. Students who transfer may then specialize in fields of Education, Sport Science, Fitness, Health and Administration. Past Herkimer students who have obtained their bachelor degree in Physical Education are now employed as full-time teachers, coaches and administrators at the elementary, junior high, high school and college levels throughout New York State and beyond.
Featured Graduate
Olivia Tooley enjoys everything about her job.  As the Athletic Director for Notre Dame Jr./Sr. High School in Utica, NY, Tooley is responsible for the daily functioning of teams, student-athletes, and coaches.  In addition to schedule, budget and policy duties, she coaches the Girls Varsity Basketball and Softball teams.
"The challenge is what motivates me and the student-athletes are what inspire me," Tooley says.  "My dream has always been to become an Athletic Director, so I am very fortunate to have this job and work in a great environment with supportive staff and administration."
Tooley was a member of the first Herkimer Softball team to go the NJCAA Softball World Series, and made lifelong friends from the experience.  She remembers her time at Herkimer College fondly.  "Herkimer played a huge role in my readiness for a four-year school and the working world.  The Physical Education instructors were experienced and took great pride in teaching, which inspired me to continue my degree."
Job Opportunities
Physical Education Teacher
Health Education Teacher
Fitness Instructor
Recreation Officer
Sports Coach
Recreation Therapist
Program Map