Learn
» Programs & Majors
Laboratory Technology A.A.S.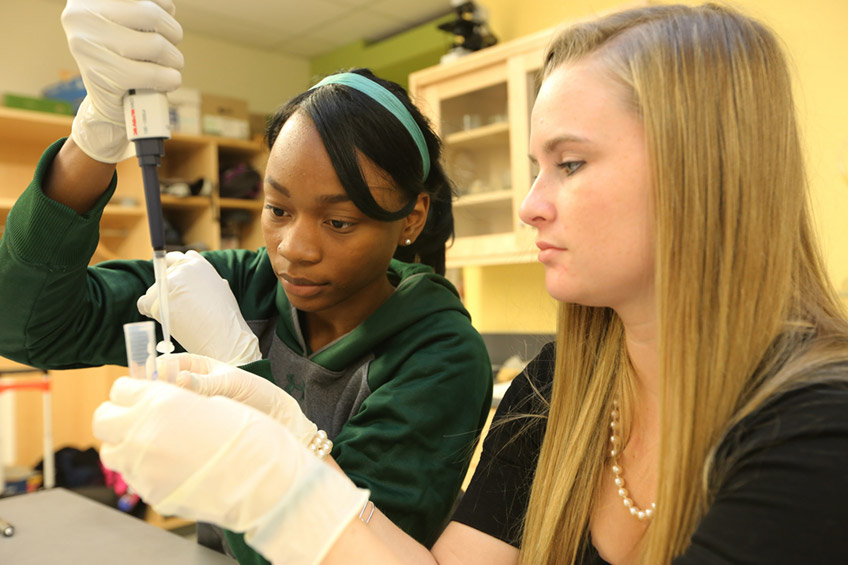 Apply Now
Request Information
The Laboratory Technology program offers the opportunity for students to explore career options available in laboratory science and to develop the skills critical to successful employment in this field.
The goals of this program are to:
enable students to develop basic math and technical writing skills along with base knowledge and understanding of common laboratory protocols; and
prepare students for entry-level employment opportunities in the field of laboratory science. 
Successful graduates from this program will be able to:
exhibit basic mastery of skills and knowledge used in laboratory science; and
successfully gain employment in a position within a laboratory setting.
Career Opportunities:
Industry Laboratories
Research Laboratories
University Laboratories
1st Year
1st Semester
Credits
EN 111
English I
3
FS 105
First-Year Student Seminar-Science
1
MA 127
Mathematical Statistics I
3
SC 125
Fund. of General, Organic, and Biochemistry
4
SC 141
Fundamentals of Biology I
4
 
Physical Education Activity
1
 
Total
16
2nd Semester
Credits
EN 112
English II
3
IS 115
Computer Applications I
3
MA 128
Mathematical Statistics II
3
SC 106
Principles of Nanotechnology
3
 
American History Selective
3
 
Total
15
2nd Year
3rd Semester
Credits
EN 171
Introduction to Technical Writing
3
QA 101
Quality Assurance I
3
SC 116
Conservation & the Environment OR
 
SC 258
Environmental Science
3/4
SC 130
Physical Science
3
 
Arts Selective
3
 
Physical Education Activity
1
 
Total
16/17
4th Semester
Credits
EN 225
Public Speaking
3
SC 105
Microbes in Society
3
SC 151
Fundamentals of Genetics OR
 
SC 108
Laboratory Protocols
4
SC 255
Genetics
3/4
 
Social Science Selective
3
 
Total
16/17
63 Credits