Student-athletes read to elementary students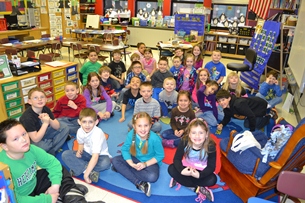 The Herkimer College Athletic Department continued their year-round commitment to the community by reading to Herkimer elementary students recently. Several student-athletes and staff visited three separate classes from kindergarten to fifth grade to encourage students to read in the classroom and at home. Led by Principal Kathleen Carney and student-athletes Renee Hamilton (Herkimer), Emilie Coufal (North Syracuse) and Alexis Caughey (Cortland), more than 10 classes were read to.
Photo: Herkimer College students recently read to classes at Herkimer Elementary School in an effort to share with the students the importance of reading in the classroom and at home. Pictured is Deb Knowlton's first grade class.