Alumnus Mike Brown Crafts Career Highlights into a Colorful Picture
Mike Brown '75, Radio-Television Broadcasting, never imagined that he would be a published author.
Brown's book, Painting a Purple Picture – 25 Years Calling Play-by-Play for the Washington Huskies Softball Team, hit bookshelves earlier this year and features his unique perspective and collection of stories on the perennial nationally-ranked University of Washington program.
Despite this being an unexpected accomplishment, Brown holds an impressive resume of storytelling as a long-time sportscaster. He has worked for 42 years in radio, mostly at Seattle's KIRO and 710 ESPN, as a talk show host, reporter, and anchor. He also operates Mike Brown Events, where he works as an emcee, charity auctioneer, and fundraiser — supporting the efforts of homeless shelters in Washington state.
"The (self-published) book landed on my doorstep two days before Christmas, and that was a great moment." Brown shared. "Opening the box, seeing the books, seeing your photo on the cover — I just never thought I'd do something like that. It was fantastic. The whole thing was just a great experience, especially all these years later in my career. It's remarkable."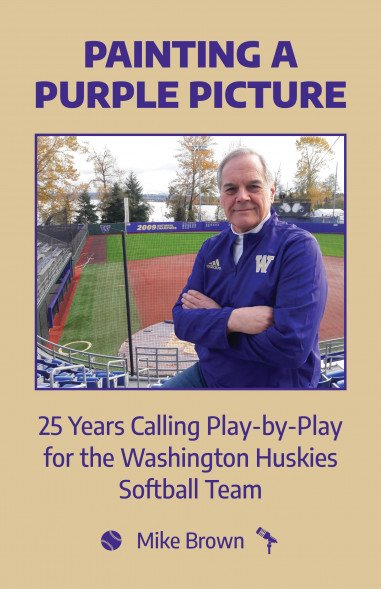 Brown said the idea for the book came while he was selling advertising for the team.
"I call the games, but I also have to go out and sell ads as well. One of my advertisers, also a friend, would listen to all my stories. One day he told me, you know you should write a book about it. I told him I'm not an author, that's not my thing. But he kept after me. Finally I thought, you know what maybe I should. I'll give it a try. One night I sat down, and I wrote five chapters just like that. It was that easy."
Brown found he had a treasure trove of material to work from, as he saved all his scorebooks and notes dating back to his first year in 1998. He explains that the process of looking back and pouring over old stories was as enjoyable as the finished product. He says the book includes many laughs as well as serious notes, including a drug scandal that rocked the team in 2004.
"I was there for the scandal, but I wasn't privy to a lot of what was going on inside. However, all these years later people were more willing to open up. And of course, they won a national title in 2009 which had to happen or otherwise there was no sense of writing the book. If you haven't reached the top of the mountain once you really shouldn't bother. But they did, and it was one of the highlights of my career."
In addition to calling for the highest-ranked college softball team in the nation, Brown shares other notable stories in Purple such as working for the Seattle Seahawks and covering the team's first Super Bowl. He was also a part of the pivotal 1995 Seattle Mariners breakout season. And while the Mariners didn't make it to the World Series that year, Brown explained the team helped to bring the game back from the '94-'95 Major League Baseball strike. "I was in the locker room when all that stuff was happening. I was able to incorporate these stories which makes the book more interesting."
While Brown has called the West Coast home for his entire career, his roots are in New York. He grew up in North Tonawanda, attended Herkimer College, and went on to obtain his bachelor's degree from SUNY Oswego (where he attended at the same time as Al Roker and even had a class with the nationally-known weatherman).
Brown fell in love with the United States during a cross-country trip with his grandfather in the eighth grade. He said it was then that he made a vow to move to California — and he did. After graduating college, Brown settled in the Golden State before venturing off to Houston for a couple of years. He landed in Seattle and has called Washington State home for 39 years.
However, throughout his travels and various professional roles, Brown says Herkimer College was the bedrock of his career.
"Herkimer gave me an extremely strong foundation from which to build," he said. "I still remember my broadcasting professor Dave Champoux. He told us one thing the first week of class — You're now a broadcaster. Think like a broadcaster. That forever stuck with me."
Brown said the small class sizes, hands-on experience, and on-campus living also left a lasting impression.
"It was great being away at school. The doors to the world were suddenly opened! The worst day of college was graduation day."
Brown also recalls an unforgettable Herkimer College experience that he still marvels at today.
"In my second year our television broadcasting class would produce a half-hour show that ran weekly on Sunday evenings. I believe it was the ABC station in Utica. They let us use their equipment, and each week you had a different job such as technical director, producer, etc.; so I produced a show on the Baseball Hall of Fame," Brown reminisced.
"So, the director and I go down to Cooperstown to meet with the director of the Hall of Fame, Ken Smith. Here we are in our 20s and he was in his 70s — a real nice guy, but he wanted to be on the show. So we agreed, and Smith said to pick him up and he'd bring some 'stuff' from the Hall of Fame. So, we pick him up and his box of stuff — well it's Babe Ruth's bat, Lou Gehrig's glove, and more. He knew all these guys! So, off we go the station to produce the show with this box in tow. Now, after each week's show we'd go out to this little tavern and have some drinks to celebrate the fact that we pulled this off another time," Brown laughed. "We asked Ken if he wanted to join us, and he said yes. So here we are in this little tavern with Ken and the box in the trunk of my old beat-up Ford Galaxy out in the parking lot. At the time I didn't realize what that stuff was worth, especially nowadays. After, we drive back to Ken's house and he shows us his office which is like a shrine," Brown explained. "He has these posters and photos of all the Hall of Famers — Rogers Hornsby and Honus Wagner. We just couldn't believe what we were seeing."
"Years later in 1999, I'm back in Cooperstown covering the induction ceremony," Brown recalled. "I'm talking with the PR guy and telling him this story. He just couldn't believe it. That would never happen today! At the time it was no big deal, but looking back it was good I didn't lose any of those items or have them stolen," Brown chuckled. "It was one of the highlights of my time at Herkimer, and it was a great two years."
Brown counts 2022 as another memorable year. In addition to being a published author, he was married in June. And while he says he has no immediate plans to get back to writing, he is contemplating a basketball-based fictional story. Brown says he has no plans of slowing down. So whichever picture he paints next, it's sure to be vibrant.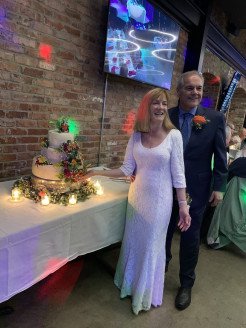 A signed copy of Painting a Purple Picture is now available on loan at the Herkimer College library. More information on Brown and his book can be found at huskysoftballbook.com.
---
This story was written by Kari Procopio, Herkimer College's assistant director of public relations. Contact her at procopikr@herkimer.edu.