Possibilities, Uncertainties, and Career Success
It's the start of the semester at Herkimer College and the campus is buzzing with energy. The first few weeks are exciting and campus life can feel like a fresh start being away from home, meeting new people, and taking new classes. The future is full of possibilities.
And with possibilities come choices and decisions. No longer do you have a guidance counselor planning out the exact classes you're required to take to graduate from high school. As a college student, this may be the first time you can take ownership of your learning. One of the first decisions you made when you applied to Herkimer College was what program or major you would study. You could not apply as undecided. And as you continue on your college journey you will be faced with more choices and decisions as you start to design your career path.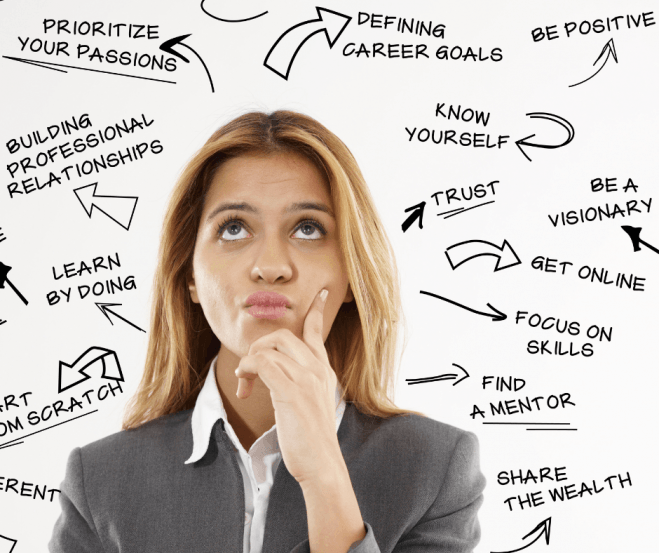 But with anything new and exciting, where choices are many and decisions need to be made, there will be moments of uncertainty. Most college students will face uncertainty over their major selection at some point and wonder where their education is leading. While this is very common, left unchecked it could lead to major hopping, taking unnecessary courses, delaying degree completion, and general anxiety that your degree won't make you marketable in the workforce.
Let's take a moment for a self-check.
Do you know how your major will prepare you for a specific career path?
Can you visualize yourself on that path 2, 4, and 6 years down the road?
Can you identify how your current interests, skill sets, values, and personality traits align with your major and career path?
If you answered NO to any of these questions you may feel uncertain about your major and may also wonder if your education will lead to the best career choice for you. Ignoring uncertainty about your major puts your college success at risk. It's hard to stay focused on your classes and do the work when you can't see the connection between your education and your future career success. While college is a time to meet new people and explore who you are and how you fit into the world, interpersonally; it's also the time to figure out who you will become, professionally.
Take these 3 steps to deal with uncertainty with your major.
Register for a Focus 2 Career account using access code hccc225 and take free assessments to learn about your work interests, skills, values, leisure activities, and personality traits. Discover the jobs that align with these areas and use FOCUS 2 to further research the degree and typical majors for the jobs you find most interesting.
Stop into the Career Services Office in RMCC 302 to schedule a career exploration appointment. This will allow you to reflect on your FOCUS 2 results with professional staff who can help you sort through the different jobs to find a career path that fits you and where you want to go.
Stop in to see your academic advisor. If the assessments and career exploration help you to discover a better-fit major, you will need to discuss a curriculum change with your academic advisor. Your advisor can answer questions about how your current courses will fit into the new major and if changing your major will change your graduation date.
The start of the semester is exciting and full of possibilities. There are so many programs, with each major leading to a variety of career paths. It's OK if you feel uncertain about your major, or you haven't figured out every step along your career path. College is the place to start figuring it out. But don't just take classes waiting for that "aha" moment where your education and career path magically become crystal clear. That rarely happens on its own. Instead, take action. Do the FOCUS assessments and learn how your interests, skills, and personality align with job titles and the majors related to those jobs. Take these steps early on in your academic program. You will either affirm you are in the best major for your ideal career path or meet any uncertainty with your major head-on. Resolving this uncertainty will keep you focused and motivated in college and ultimately lead to career success.
The Worksmith: Crafting your Ideal Career Path is a blog series by Herkimer College's Director of Career Services, Suzanne Paddock. For more information on Career Services at the College, visit us here.