Forensic Investigations A.A.S.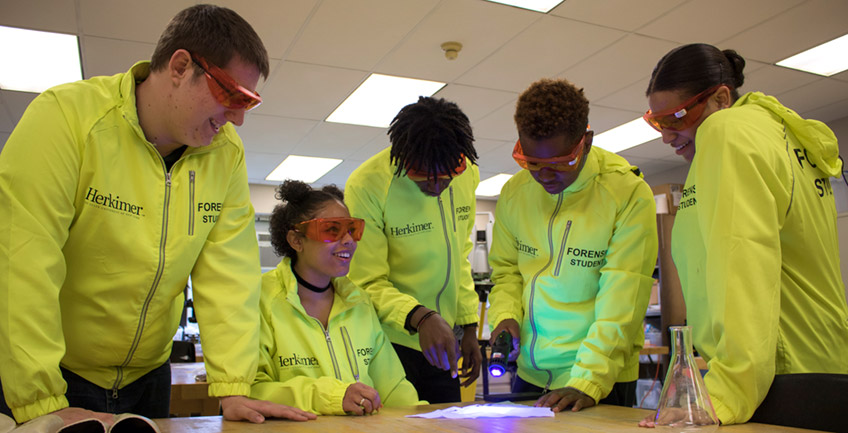 A fundamental understanding of processing a crime scene.
As a Forensic Investigations major at Herkimer College, you'll develop occupational competence for entry into public law enforcement and/or private investigative fields.
Successful graduates of this program:
Use skills and knowledge needed to work within the Criminal Justice field
Understand the fundamentals of processing a crime scene
Obtain the complex skills required of a crime scene investigator/photographer
Locate, document, and collect physical evidence at a crime scene
Ensure the chain of custody is maintained
Properly mark all evidence prior to collection and account for it at all times until the crime is solved
Graduates find employment in entry-level positions in public and private investigative agencies and companies, or may choose to go on to colleges and universities such as SUNY Canton, John Jay College, SUNY Buffalo, SUNY Albany, SUNY Oneonta, SUNY Plattsburgh, SUNY Brockport, and Utica College.
---
Faculty Interview
---
Featured Graduate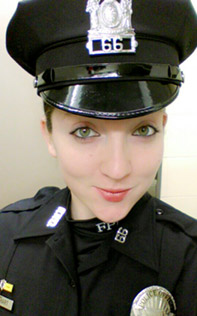 As a Patrol Officer for the Fulton City Police, Mary Lenhart works daily to serve and protect her community, enforce laws, and deter crime. "As cliché as it sounds," Lenhart says, "I love getting to help better my community and keep it safe every day."
At Herkimer, Lenhart gained the knowledge she needed in her career choice. She credits the small class sizes with allowing her to work one on with her professors. "That's something you don't get at bigger colleges," Lenhart says.
"My professors were always supportive and eager to help me pursue my dream of becoming a police officer," Lenhart recalls. "My experience at Herkimer really helped to prepare me for my career path."
---
Curriculum
View our program course requirements as published in the College Catalog: Forensic Investigations A.A.S.
---
Transfer Agreements
Below is a list of transfer agreements we have established (for our Forensic Investigations A.A.S. Program) with four-year colleges & universities to provide a seamless transfer of credits.
Programs also offered online are denoted by asterisk.*
---
Career Opportunities
Forensic Investigator
Forensic Scientist
Crime Scene Examiner
Forensic Science Technician
Private Investigator
Crime Laboratory Analyst
Medical Examiner
Forensic Engineer
---
Gallery
---
Cost & Financial Aid
Herkimer College offers a quality and affordable educational experience. Learn about our cost of attendance and financial aid.
---
Awards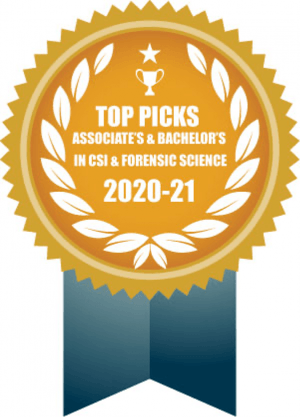 CrimeSceneInvestigatorEDU.org Names the Herkimer College AAS in Forensic Investigations Among the Best Forensics Undergraduate Programs of 2020-21
In a field that relies on the kind of scientific discipline and meticulous attention to detail it takes to uncover useful information from evidence collected at crime scenes, an undergraduate degree can provide the skills investigators, crime scene technicians and forensic lab techs need to get the job done.
Schools that offer forensics degrees need to have a real commitment to academic rigor and to making sure students get the best opportunities for hands-on learning under the guidance of instructors with a lot of experience to draw from.
CrimeSceneInvestigatorEDU.org brings that same kind of dedication to putting together the resources students need to get into the field. That's why we wanted to make it easier to find the very best undergraduate programs out there. With the goal of identifying exceptional programs we could confidently recommend to anybody serious about a career in forensics, we took on the task of reviewing every single forensic science undergraduate program offered at accredited schools in the U.S.
When we came to the Herkimer College AAS in Forensic Investigations, we knew we had a winner. With state-of-the-art labs equipped with the most advanced investigative technology, transfer agreements that make it easy to enter a related bachelor's program offered at schools in the SUNY system, and a long track record of exceptional student outcomes, the Herkimer College AAS in Forensic Investigations easily earns its place on our list of Top Pics for the Best Undergraduate Degrees in CSI & Forensic Science for 2020-21!
---