Legal Studies A.A.S.
Discover a Career in Legal Studies
Herkimer College's Legal Studies program prepares you for positions in law offices, banks, real estate firms, brokerage houses, federal, state and local government agencies, and other institutions requiring employees with legal training. Responsibilities include assisting an attorney in legal research, the preparation of documents for hearings or trial, and other support services.
As a graduate, you'll be prepared to:
Interview a client and gather a case history
Conduct both independent and directed legal research and fact gathering activities
Draft pleadings, bills of particulars, motions, wills, contracts, memorandums of law, and other commonly encountered legal documents
Perform standard filing and recording procedures
Summarize documents in a case file
Support for advertising of this program was provided by the Federal Carl D. Perkins grant administered by the NY State Education Department.
---
Faculty Spotlight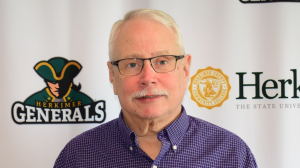 At Herkimer, we say that we 'meet students where they are.' So, we get a very diverse student body which has a wide range of talent – both academic and extracurricular – and we develop this talent. I think that Herkimer embraces the 'whole student' concept and we offer lots of opportunities for students to get involved. This is critical since students learn and develop as much (if not more) outside of the classroom as in. The college's size is perfect for promoting student involvement and I think we do an excellent job engaging our students. Read more about Mark Polkosnik in his full faculty profile.

- Dr. Mark C. Polkosnik, Professor - Legal Studies
---
Curriculum
View our program course requirements as published in the College Catalog: Legal Studies A.A.S.
---
Transfer Agreements
Below is a list of transfer agreements we have established (for our Legal Studies A.A.S. Program) with four-year colleges & universities to provide a seamless transfer of credits.
Programs also offered online are denoted by asterisk.*
---
Career Opportunities
Legal Studies graduates find employment in law offices, administrative agencies, boards and commissions on the local, state and federal levels, district attorney offices, offices within the state and federal court systems, as well as abstract and title companies, bank trust departments, insurance companies and corporate legal departments.
---
Online Learning
The Legal Studies A.A.S. program may also be completed entirely online through our Internet Academy. We offer the same level of care and service to online students as we do to on-campus students. All necessary services are accessible online, including registration, placement testing, bill payment, tutoring, book purchasing, and academic advisement. Learn more!
---
Gallery
---
Cost & Financial Aid
Herkimer College offers a quality and affordable educational experience. Learn about our cost of attendance and financial aid.
---