Mental Health Association in New York State (MHANYS) partners with Herkimer County Community College to offer first-of-its-kind certification on a college campus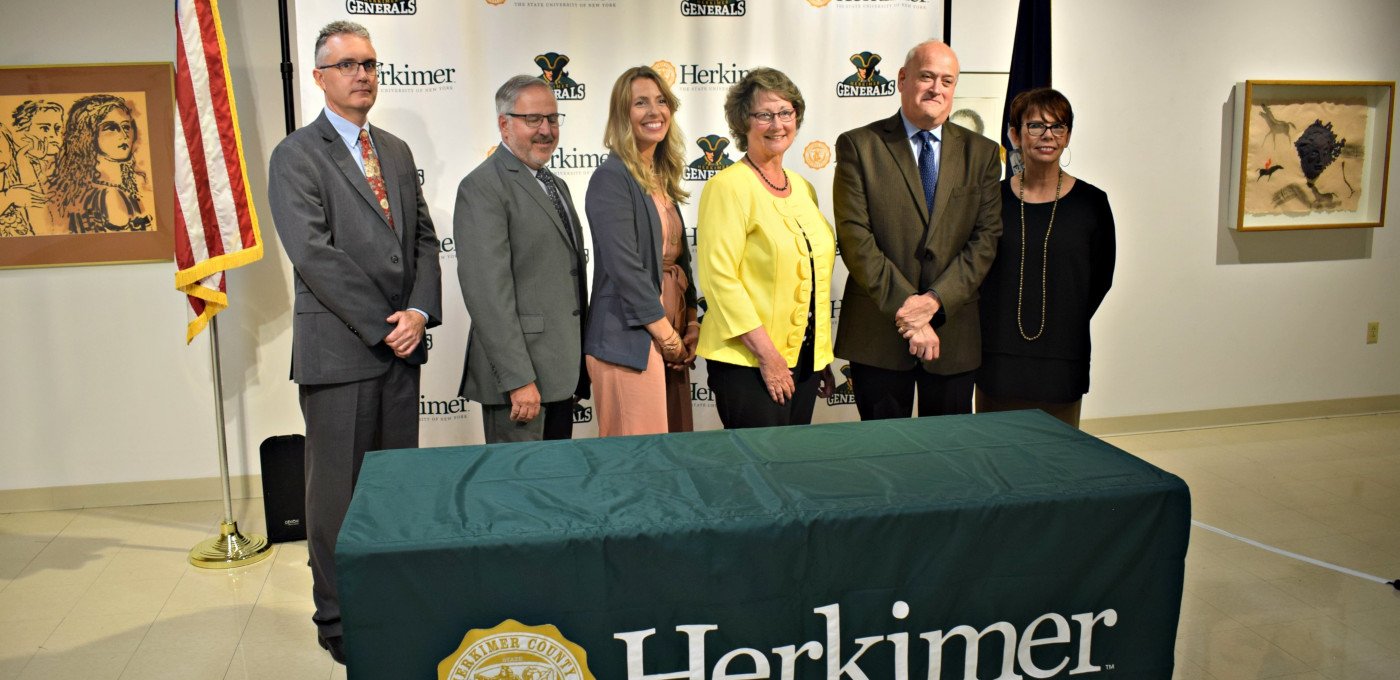 From left: William McDonald, Herkimer College associate dean of academic affairs; Provost Michael Oriolo; Grace Ashline, instructor and supervisor of human services at Herkimer County Community College; Herkimer College President Cathleen McColgin; Glenn Liebman, CEO of the Mental Health Association in New York State, Inc.; and Deborah Faust, director of Family Engagement & Support Services at the Mental Health Association in New York State, Inc., pose for a photo after a signing ceremony at the College on Aug. 15, 2019. The ceremony celebrated a new certificate program being offered through the College in partnership with the Mental Health Association in New York State, Inc. (Provided by Herkimer College)
Herkimer County Community College and the Mental Health Association in New York State, Inc., (MHANYS) are partnering to offer CarePath™ Coach certification within the College's Human Services degree program. This is the first time MHANYS has teamed up with a college to offer academic learning opportunities.
MHANYS is a not-for-profit organization that aims to end the stigma surrounding mental illness and promote mental health through training, education, advocacy and innovative programming.
CarePath™ is a blueprint for maintaining better overall health and well-being. CarePath™ is a support tool used to assist individuals and their families and/or supporters during a transition from hospitals, supportive housing, addiction rehabilitation centers, youth residential settings, correctional facilities, etc. A
CarePath™ Coach offers support through the engagement of the individual and their family and/or supporters all embarking on the process of recovery together. A CarePath™ Coach supports person-centered planning as each participant defines their own health and well-being.
MHANYS CEO Glenn Liebman states, "Managing chronic physical, mental and/or substance use disorders often goes beyond what traditional treatment and discharge planning can do." MHANYS CarePath™ supports healthy reconnections among family, friends, and within the community, be it job, school, or other association.
The CarePath™ Coach certification course at Herkimer College will provide a comprehensive overview of evidence based and best practices for assisting individuals and families managing mental health and/or substance use challenges.
CarePath™ provides a strong foundation for a career in the helping profession, and students enrolled in CarePath™ may also qualify for 20 continuing education credit hours toward the requirement to become a Credentialed Alcoholism and Substance Abuse Counselor (CASAC) through the New York State
Office of Alcoholism and Substance Abuse. Students certified in CarePath™ begin a relationship with a statewide organization that serves communities throughout New York State by offering innovative and effective programming that address whole family health. MHANYS has 26 affiliate mental health associations serving 50 counties across New York State.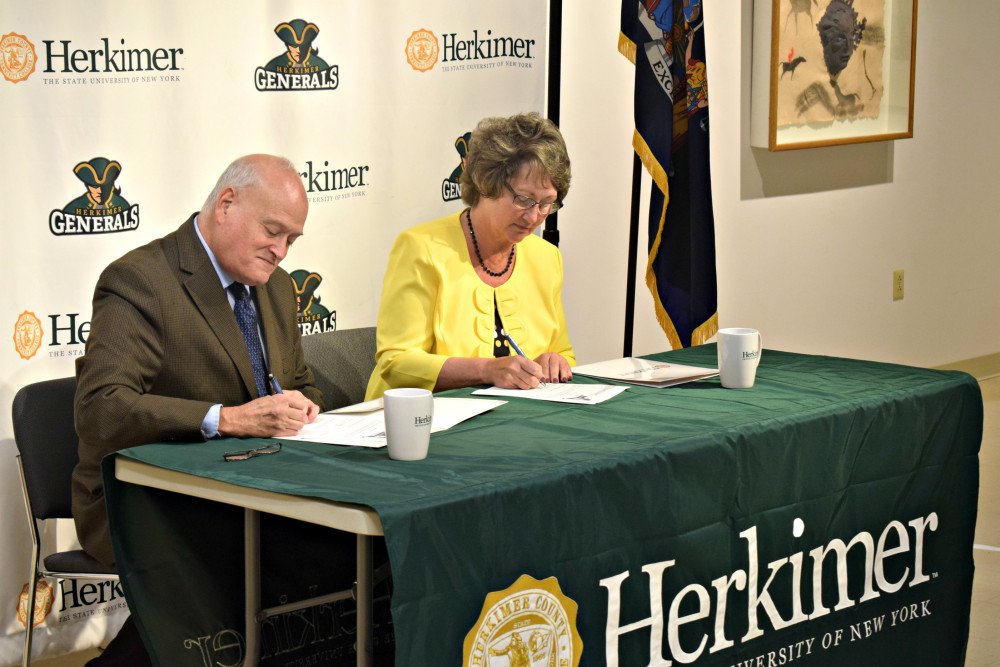 Glenn Liebman, CEO of the Mental Health Association in New York State, Inc., left, and Herkimer College President Cathleen McColgin, right, sign an agreement at a ceremony at the Herkimer College campus on Aug. 15, 2019. The agreement established a new certificate program being offered through the College in partnership with MHANYS. (Provided by Herkimer College)
Herkimer College President Cathleen McColgin said, "In addition to providing a valuable credential for our matriculated students in the Human Services program, this partnership allows Herkimer College to expand continuing education opportunities for professionals in the community."
Open to Human Services majors only, the CarePath™ Coach certification course will be offered in the student's final semester of the two-year degree program. The course will be offered for the first time in the spring 2020 semester. The partnership was spearheaded by Herkimer College's Human Services Instructor and Supervisor Grace Ashline and MHANYS Director of Family Engagement, Deborah Faust.
Ms. Ashline joined the faculty at Herkimer in 2017 and will be the supervisor of the program. She holds a bachelor's degree in sociology/criminal justice and a master's degree in social work with a clinical concentration from SUNY Albany. She is a member of the National Association of Social Workers and the National Organization of Human Services. "With the current addiction and mental health epidemics, there is a critical need in the workforce for CarePath™ Coaches. This partnership allow students to get instant certification along with their two-year degree, and make them immediately marketable in the field," said Ashline.
Ms. Faust proposes, "Bringing MHANYS CarePath™ to Herkimer College is a partnership that will not only support students moving forward in the Human Services Department and enhance employment opportunities upon graduation, but ultimately support individuals, families and communities challenged by mental health and/or substance use disorders." Herkimer students certified in this new innovative support tool will join CarePath™ Coaches across New York State in assisting people at a critical time in their lives.
For more information on the CarePath™ Coach certification at Herkimer College, contact Grace Ashline at ashlinegv@herkimer.edu or 315-866-0300 x8356.