Three Herkimer College employees honored with 2020 SUNY Chancellor's Awards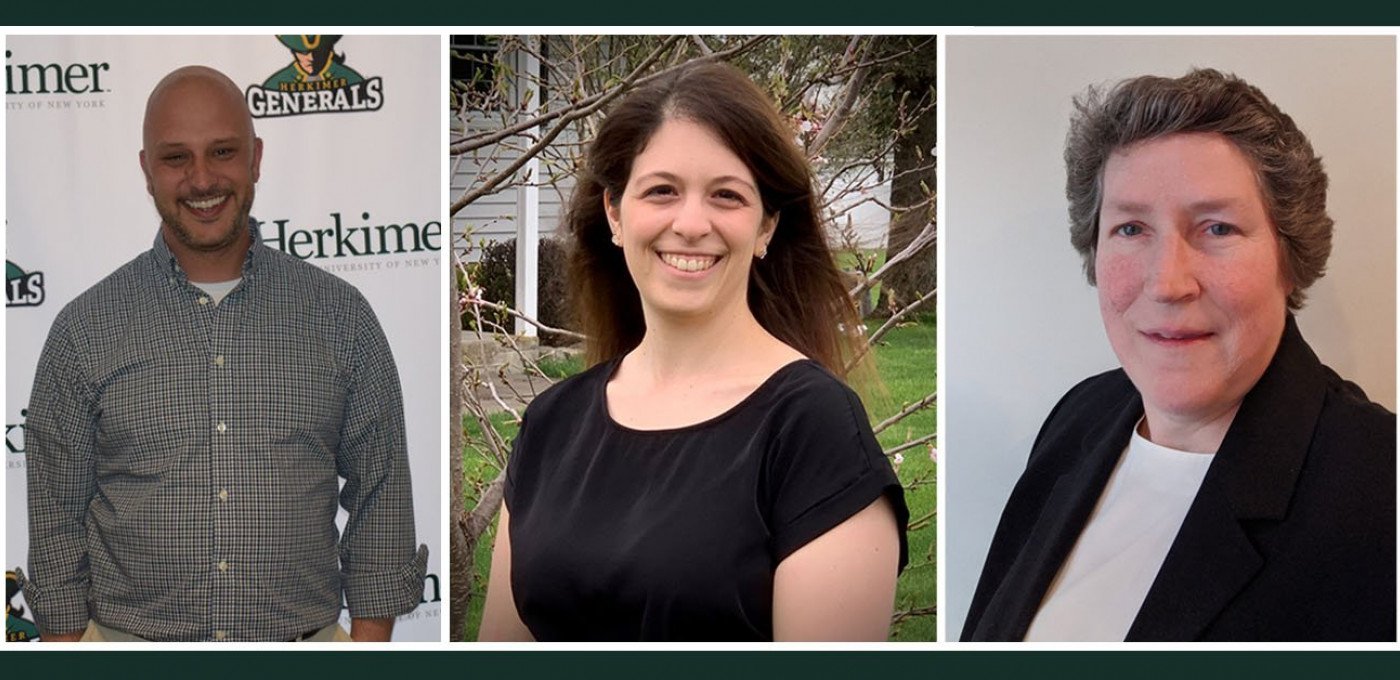 With the addition of these three employees, a total of 75 Herkimer College faculty and staff have been honored with the SUNY Chancellor's Award for Excellence.
Three Herkimer College employees have been honored with SUNY Chancellor's Awards for Excellence for 2020.
Jason Brown, assistant professor of English, is recipient of the SUNY Chancellor's Award for Excellence in Teaching. Brown, who earned his bachelor's degree from SUNY Binghamton and his master's degree from Western Washington University, joined the Herkimer College faculty over 15 years ago. Brown is well known on campus for always making time to work with students outside of class to help them succeed. He developed the online template for Herkimer's Accelerated Learning Program (ALP), which focuses on writing skills development for students who need additional support, and was one of the program's early adopters. He's the adviser of the Social Issues Club, is a member of the Fall Fest and Alumni Weekend working group, and sits on the Student Judicial Review Board. Brown is also a member of the National Board for the Online Writing Lab.
Librarian Stephanie Conley was honored with the Award for Excellence in Librarianship. She holds a bachelor's degree from SUNY Fredonia and a master's degree from SUNY Buffalo, and began working in Herkimer College's library in 2010. She provides excellent, student-centered customer service, and serves as the Certified Administrator for the Alma and Primo library systems and supervisor of the LibGuides and LibAnswers services. Conley also presents to Freshman Seminar and English classes regarding library services and organizes special events and activities to help draw students into the library.
Pat Miller, senior financial aid assistant, was recognized with the Excellence in Professional Services award. She is an alumna of the College, having graduated with a degree in Business Administration in 1979 before going on to receive her bachelor's degree from St. Bonaventure University. Miller joined the Herkimer College staff in 1999 and has earned a reputation among her colleagues and students for superior customer service. Miller is very engaged in service to the College and the community. She has been an active member of the local chapter of Habitat for Humanity, and has been named a campus angel twice by On Point for College in recognition of her leadership role in liaising and collaborating with that organization and its clients. Miller also remains very involved in the College's shared governance structure through her participation in a number of key campus committees.
According to the State University of New York, the awards for excellence publicly acknowledge superior professional achievement while encouraging the pursuit of excellence. "These programs underscore SUNY's commitment to sustaining intellectual vibrancy, advancing the boundaries of knowledge, providing the highest quality of instruction, and serving the public good." The award is designated for faculty and staff members who personify professional excellence and serve as role models not only for the State University of New York community, but for Herkimer County Community College as well.
Herkimer College President Cathleen McColgin said, "It is a privilege to be able to honor our faculty and staff who go above and beyond to ensure our students are supported and successful in the pursuit of their academic goals. My heartfelt thanks and congratulations are extended to each of the 2020 SUNY Chancellor's Award recipients."
With the addition of these three employees, a total of 75 Herkimer College faculty and staff have been honored with the SUNY Chancellor's Award for Excellence. A complete list is available at www.herkimer.edu/chancellor-awards.