Herkimer College PTA Students Achieve 100% Pass Rate on Board Exam
Students from Herkimer College's Physical Therapist Assistant (PTA) A.A.S. program achieved a 100% pass rate on the 2023 National PTA Licensing examination. Ten students are now eligible for certification by the NYS Board of Education as physical therapist assistants.
Herkimer's PTA program prepares students, through classroom education and clinical fieldwork, to be skilled healthcare providers working under the supervision of a physical therapist. The program is accredited by the Commission on Accreditation in Physical Therapy Education and is one of the College's most competitive and rigorous programs.
"As faculty, we have set a high bar for our students in both classroom and laboratory experiences," Herkimer College PTA Professor Dr. Karen S. Jones '93, D.P.T. said. "We know what it takes for them to be successful on the boards and in their careers. The students in this program work extremely hard to meet the goals we have set."
Jones was also a graduate of the College's first PTA class and has been instrumental in the program's development over the years. Under her guidance, graduation rates, pass rates on the Boards, and employment rates for PTA graduates are consistently above 95 percent.
"We, as a program, try to incorporate fun learning activities and field trips whenever possible to supplement their hard work," Jones explained. "This includes trips to local PT facilities such as Sitrin Healthcare to participate in aquatics, Springbrook in Oneonta to observe pediatrics, Faxton Hospital to participate in cardiac rehabilitation, and the American Physical Therapy Association's national conference where they provide further education and networking with Physical Therapy professionals across the United States. Our program is very 'hands-on' and the knowledge the students learn and practice in the classroom carries over into practice."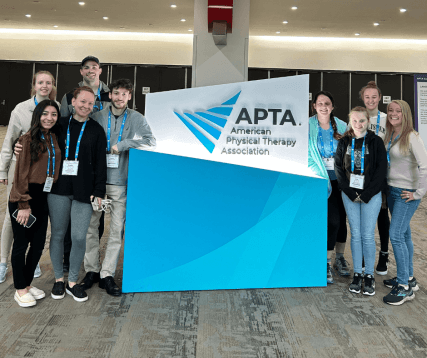 The employment rate of the College's PTA program has been 100% for the past twenty-one years, and according to the U.S. Bureau of Labor Statistics, the median annual wage for a PT assistant was $61,180 in 2021. The field is projected to grow 24% by 2031.
"The PTA program has the support of many wonderful clinicians in the area that allow our students to do clinical internships at their facilities under their supervision and guidance," Jones adds. "We have a strong advisory committee that has provided the program with guidance throughout the years as well as having a program mentor that has been set in place to assist the students in their learning experience."
"The students' success reflects our success as an institution," Herkimer College Dean of Academic Affairs William McDonald, said. McDonald is the dean responsible for the Business, Health, Science, and Technology Division and the PTA program.
"This exceptional achievement is due to the dedication and care that our faculty, students, and College officials have put into the program. Congratulations to all."
For more information on Herkimer College's PTA program, visit http://www.herkimer.edu/pta.