Learn
» Programs & Majors
Human Services A.A.S.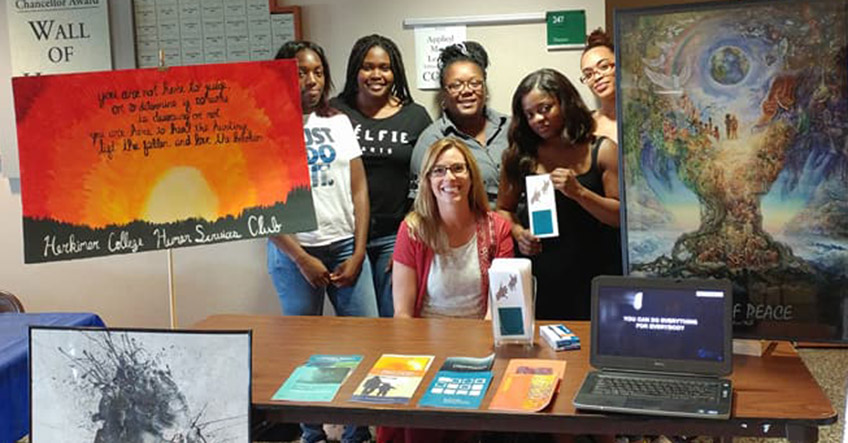 Apply Now
Request Information
Explore a Career Helping Others
Become an agent of change in the field of Human Services.  As a major in our program, you'll learn through real-life experiences, serving marginalized and oppressed populations.
Our innovative curriculum is constantly evolving provide you with the skills you need to find employment after graduation. Opportunities for involvement abound with our vibrant Human Services club, which partners with local organizations to help the community and raise awareness about critical issues.
Upon graduation, you'll be prepared for various types of careers at human service agencies. For example, graduates find employment as case managers, social work assistants, family advocates, residential counselors or classroom assistants. They work with a variety of populations, such as the physically or developmentally disabled, elderly, youth at risk or individuals in crisis.
As a graduate, you'll be prepared to:
Identify normal development trends throughout the life span and recognize deviations from normal development
Identify the social systems that impact the individual's behavior
Communicate effectively with a variety of populations
Assist in the preparation and implementation of appropriate service plans
Demonstrate the ability to accurately document case records
Identify community services available to assist clients
Please contact Grace Ashline, Human Services Instructor and Program Supervisor with any questions or comments by emailing ashlinegv@herkimer.edu or calling (315) 866-0300 ext. 8356.
Student Testimonial
The Human Services Program at Herkimer College is unique because it provides students with the opportunity to enhance their knowledge in class while simultaneously developing professionally in the work force.  Our program has great professors who are not only passionate about their work, but have an abundance of wisdom gained through years of experience in the field.  We take many classes focused on innovative methods of care, cultural competency, and the needs of the populations we will be supporting.
In addition, we complete internships to put skills learned in class into practice, while building our professional network that will help us after graduation.  Herkimer College also has a Human Services Club where members can develop leadership skills, meet other professionals in the field, and plan events or fundraisers on campus.  I feel that Herkimer College and the Human Services Program have done an excellent job preparing me for my future.  
- Emma Vanderwerken
Transfer Agreements
Below is a list of transfer agreements we have established (for our Human Services A.A.S. Program) with four-year colleges & universities to provide a seamless transfer of credits.
Programs also offered online are denoted by asterisk.*
Job Opportunities
Social worker
Counselor
Childcare worker
Day care teacher
Probation Officer
Corrections Worker
Elderly Service Provider
Program Map