Herkimer College First Year Seminar 'Escape Room'
Navigating your first year at college can be challenging, but what happens when you take aspects of campus life and transform them into an escape room "final exam"?
For students of Herkimer College's First Year Student Seminar course, it was a culmination of meaningful connections with faculty, staff, and fellow students.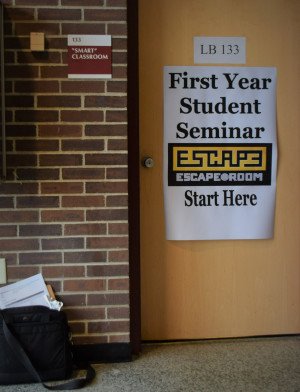 According to Vicki Brown, director of Herkimer College Student Activities; she and Katherine Scanlon, Advisement Center director, came up with the escape room idea during a brainstorming session when assessing the College's First Year Experience program and its learning outcomes. Brown and Scanlon oversee First Year Experience which includes four components – New Student Orientation, Orientation Course in Generals Online (GO), First Year Academic Advisement, and First Year Seminar.
"One of our foundations is 'making connections,' because we know that students who are connected, are more likely to persist," says Brown. "The overarching goals for revamping First Year Student Seminar was to improve retention and persistence."
Brown says the exercise fits in with the College's philosophy of active, engaged learning.
"Since we stress the importance of instructors getting to know their students and students getting to know their peers; we were looking for a culminating experience instead of a final, that relied on teamwork, and the Escape Room just made sense!"
Brown says she and Scanlon visited the Destiny USA Mall's Mystery Escape Room to gather ideas. The First Year Seminar escape room exam was held over the course of a week in early December with multiple sessions offered. Groups of students entered the room and were required to answer 10 questions on such topics as financial aid, campus safety, career services, calculating GPAs, and more before "escaping".
Brown adds that every group has been successful in solving the problems and finding the "key" to escape. She says it takes most groups on average 15 minutes to complete.
"Students seem to enjoy it!"
Click here to learn more about Herkimer College's student-centered, First Year Experience program.