Computer and Network Security A.A.S.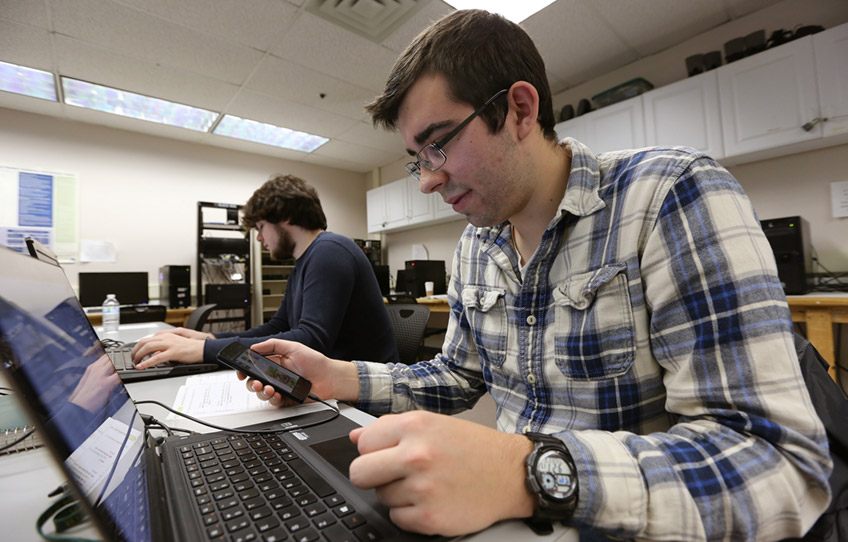 Hands-on experience for tech success.
Prepare for a career in computer and network security and help desk services. The Computer and Network Security program at Herkimer College emphasizes hands-on experience as well as theory. All network and PC courses are 50% lab, and seniors complete either a topics course or fieldwork. This program prepares you (along with some additional study) for A+ Certification, Network+ Certification, and various Microsoft Certifications.
As a graduate, you'll be prepared to:
Perform the day-to-day tasks of administering a PC network consisting of various switches, routers, printers, and network operating systems
Plan and install a PC network
Perform help desk functions to support network users, including training and problem solving
Build, repair, and upgrade PCs
---
Featured Graduate
Ryan Doyle, a corporate operations engineer for Google, remembers Herkimer as the place that started it all. "It's a funny story of how I got to Herkimer, to RIT, to Google, actually," Doyle recalls. "One of my best friends went to Herkimer for a year and told me what a great experience he had, and suggested that I enroll at Herkimer as well.
Doyle thanks his professors for their hand in his success. "The Computer and Network Security program at Herkimer is really excellent. Their program gave me a great foundation and I was able to use that and build on those skills when I went to RIT. I was ahead of certain people that may not have had that experience." He cites the hands-on experience and personalized attention that Herkimer offered as a contributing factor to his love for technology.
"Excellent teachers, excellent mentors." Doyle stresses. "You could tell they really cared."
---
Curriculum
View our program course requirements as published in the College Catalog: Computer and Network Security A.A.S.
---
Career Opportunities
Computer Technician
Computer Repair
Computer Training & Support
Network Administrator
End User Support
---
Cost & Financial Aid
Herkimer College offers a quality and affordable educational experience. Learn about our cost of attendance and financial aid.
---