Communication and Media A.S.
Think. Engage. Create.
Explore media's impact on society, applying modern communication theory to real-word situations. Not only will you learn how to create media, you'll learn to share it through journalistic and news-related content, video, audio, graphics and social media. Participate in campus clubs, our award-winning arts and literary magazine, our radio station, and social media channels.
Our Communication and Media A.S. prepares you for transfer to a wide variety of four-year media and communication programs. The program meets requirements for three SUNY Transfer Paths—Communication: Media, Communication: Non-Media, and Media Production. This ensures you'll have a smooth transition to continue your studies at a wide selection of SUNY schools and programs.
Graduates from our media programs have achieved a high level of success throughout the industry, locally and beyond.
---
Featured Graduate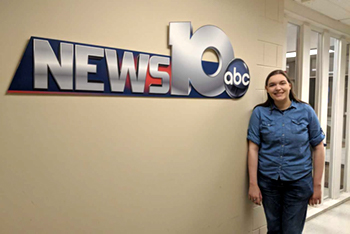 As a News Producer for News10 in Albany, New York, Katie Ranno produces three shows a day. She identifies and develops stories, finding the most effective and creative way to present each piece.
Ranno loves that every day presents a unique challenge. "You never know what's going to happen or what news is going to come down the pipeline," Ranno says. "Because news is so unpredictable, I am constantly learning and finding different ways to grow in my career."
Ranno's career took root at Herkimer College, where she developed complementary skills including media production, formatting scripts, writing visually and even fundamentals of design. An Honors student, she was motivated to work with a faculty member to learn every job in the studio and control room as a project.
"These skills have helped me become a versatile part of the newsroom," Ranno says. "I am able to help with the teleprompter, edit quick teases, and format graphics on busy days where we need an extra set of hands. Herkimer College has given me a rock-solid foundation that has helped propel me to where I am today."
Ranno notes that the job is always evolving. "Over the past year, producers in our newsroom have started to add digital duties to our routine. I am posting to our social media pages when needed and posting stories to our website daily."
*Katie Ranno graduated as a Digital Filmmaking major, which has evolved into the new Communication and Media A.S. program
---
Curriculum
View our program course requirements as published in the College Catalog: Communication and Media A.S.
---
Transfer Agreements
Below is a list of transfer agreements we have established (for our Communication and Media A.S. Program) with four-year colleges & universities to provide a seamless transfer of credits.
Programs also offered online are denoted by asterisk.*
---
Cost & Financial Aid
Herkimer College offers a quality and affordable educational experience. Learn about our cost of attendance and financial aid.
---