Herkimer College unveils $2 million Electrical Technology Smart Grid Laboratory; adds new Electrical Technology degree program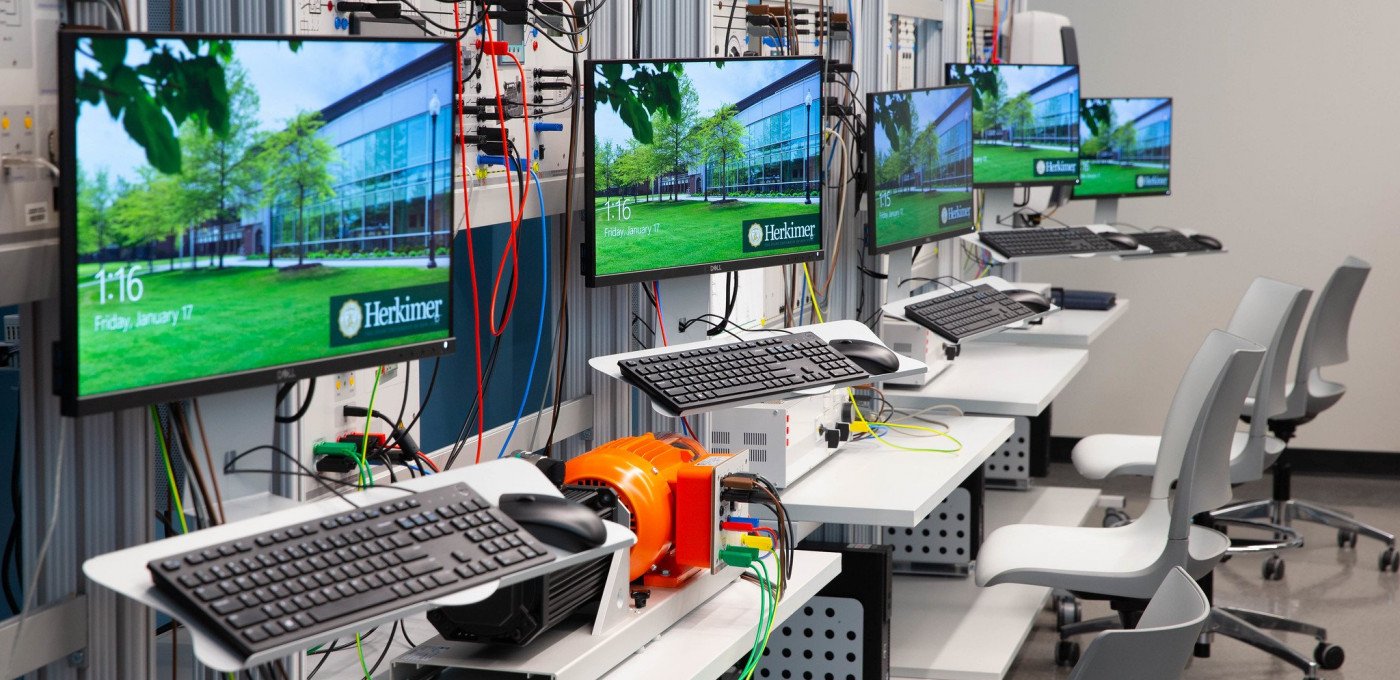 State-funded facility to help prepare New York for clean energy future.
Herkimer, NY—Herkimer County Community College (Herkimer College) unveiled a new state-of-the-art Electrical Technology Smart Grid Lab at a ribbon cutting ceremony on Friday, January 17. The facility is designed to educate and train students in power grid repair and maintenance, preparing them for careers in the utility industry.
Approximately $2 million went into developing the lab and was made possible by an investment of $949,000 made by the New York Power Authority (NYPA) and $96,000 from the M&T Bank/Partners Trust Bank Charitable Fund, a donor-advised fund of The Community Foundation of Herkimer and Oneida Counties, Inc. These combined funds were then matched by the State University of New York Community College Capital Program for a total project cost of $2,090,000. The NYPA funding was announced by Governor Andrew M. Cuomo at a Capitol for A Day event in 2015 as part of a comprehensive plan for advancements in the Mohawk Valley.
Herkimer College also announced a new Electrical Technology degree program with a focus on smart grid technologies. The associate in applied science degree will prepare students with skills necessary for careers in the design, application, installation, manufacturing and operation and/or maintenance of electrical/electronic(s) systems, with a focus on smart grid technologies. Graduates of the program may choose to pursue a bachelor's degree in electrical engineering technology or a related field.
"We are grateful for the funding and support from our partners on this project, and look forward to preparing our students and the workforce for lucrative careers in the utility industry," said Herkimer College President Cathleen McColgin.
"Herkimer County Community College's Electrical Technology Smart Grid Lab will educate and inspire the next generation of utility workers with the unique skills required for the energy industry as it transitions to the grid of the future," said Gil C. Quiniones, New York Power Authority president and CEO. "It is an exciting time to choose energy as a field as it is rapidly evolving to proactively address climate change. This lab will ensure that we have the skilled workforce to help New York State modernize its power grid and expand our focus on incorporating renewable energy sources into our power grid. This lab will help us all achieve Governor Cuomo's aggressive clean energy vision."
Located in Johnson Hall, the lab and classroom includes the installation of a grid-parallel photovoltaic electrical generation system and an emergency generator that includes grid-integrated controls for parallel operation to enable the College's participation in the New York Independent System Operators' energy demand response programs. The laboratory also includes energy efficiency heating ventilation and air conditioning system upgrades and as well as lighting upgrades.
In addition to using the new lab for courses in its Electrical Technology degree program, Herkimer's lab is available for NYPA and other utilities companies to utilize for workforce training. The facility also has a high definition projector with 90 by 144-inch drop-down screen, camera, microphones and speakers for distance learning, 75-inch mobile smart board, and 16 Dell laptops and eight personal computers.
NYPA and Herkimer College began work in 2016 to develop the curriculum and plans for a classroom/lab dedicated to workforce development and training for employees in the utility industry. Herkimer College also partnered with Ilya Grinberg, professor and director of the Power Center for Utility Exploration at Buffalo State, where a similar facility exists. As a result, Herkimer's facility is modeled after the lab at Buffalo State, and students who graduate from Herkimer will be uniquely prepared for successful transfer to the bachelor's program at Buffalo State.
Grinberg said, "Besides typical courses that every engineering technology program in this state offers, such as circuits, electronics and digital courses, which are all geared more towards electronics, this program will have a course in renewable energy and a course in microprocessor-based relays, which will train and education students in controlling the power grid."
Rabab Hassan, New Hartford, NY, has been appointed as an assistant professor to teach multiple courses in the program, including renewable/clean energy and power systems applications. Hassan was an electrical engineer for the Mansoura for Resins and Chemical Industries Co. in Egypt and is a member of the Institute of Electrical and Electronics Engineers (IEEE), the National Society of Black Engineers, and the Society of Women Engineers. She holds a bachelor's degree in Electrical Power Engineering from the University of Mansoura, Egypt, and a master's degree in Electrical Engineering from Tennessee Technological University. She has is a member of Eta Kappa Nu, the IEEE's international honor society, and has a special interest in renewable energy—especially solar and wind—microgrids, and distributed generation.
For more information about the Electrical Technology program, contact William McDonald, Associate Dean of Academic Affairs, at mcdonalwh@herkimer.edu or visit www.herkimer.edu/electrical. For photos, see the online photo album provided by NYPA.
-30-
About Herkimer County Community College
Herkimer College is one of 30 community colleges in the State University of New York. Centrally located in the Mohawk Valley, Herkimer offers more than 40 associate degree and certificate programs in arts, communication arts, criminal justice and law, business, education, healthcare and service, liberal arts, and STEM. Herkimer is a leader in online learning with 20 degree and four certificate programs, as well as support services, offered entirely online. Herkimer College is a residential college with on-campus housing for more than 600 students and a vibrant campus life, including a national championship-winning athletic program.
About NYPA
NYPA is the largest state public power organization in the nation, operating 16 generating facilities and more than 1,400 circuit miles of transmission lines. More than 80 percent of the electricity NYPA produces is clean renewable hydropower. NYPA uses no tax money or state credit. It finances its operations through the sale of bonds and revenues earned in large part through sales of electricity. For more information, visit www.nypa.gov and follow them on Twitter @NYPAenergy, Facebook, Instagram, Tumblr and LinkedIn.
New York State's Green New Deal
Governor Cuomo's Green New Deal is the most aggressive climate change program in the nation and puts the state on a path to being entirely carbon-neutral across all sectors of the economy, including power generation, transportation, buildings, industry and agriculture. The Governor's program also establishes a goal to achieve a zero-carbon emissions electricity sector by 2040, faster than any state in the nation. The recently passed Climate Leadership and Community Protection Act mandates several of the Governor's ambitious Green New Deal clean energy targets: installing nine gigawatts of offshore wind by 2035; six gigawatts of distributed solar by 2025 and three gigawatts of energy storage by 2030. The CLCPA also calls for an orderly and just transition to clean energy, creating jobs while spurring a green economy. It builds on New York's unprecedented ramp-up of clean energy including a $2.9 billion investment in 46 large-scale renewable projects across the state, the creation of more than 150,000 jobs in New York's clean energy sector and 1,700% growth in the distributed solar sector since 2012. The CLCPA also directs New York State's agencies and authorities to work collaboratively with stakeholders to develop a plan to reduce greenhouse gas emissions by 85% from 1990 levels by 2050, and to work toward a goal of investing 40% of clean energy and energy efficiency resources to benefit disadvantaged communities.