Organizing committee recognized with new plaque installed at Veterans Memorial Park at Herkimer College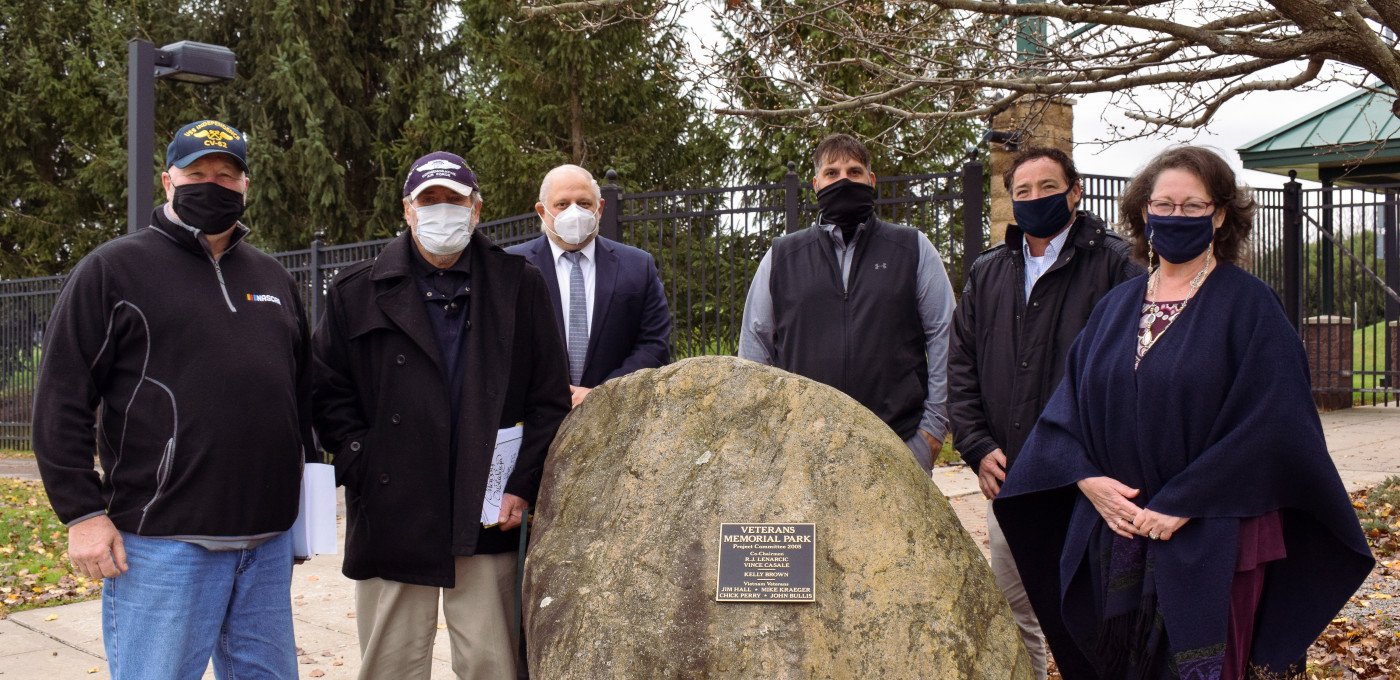 The organizing committee for the Veterans Memorial Park at Herkimer County Community College has been recognized for their work in bringing the 2005 project to life with the addition of a new plaque at the park.
The bronze plaque displays the names of Memorial Park Organizing Committee co-chairs Professor Emeritus R.J. Lenarcic and Vince Casale, along with Kelly Brown of the Herkimer County Hunger Coalition and Vietnam War veterans Jim Hall, Mike Kraeger, Chick Perry, and John Bullis.
In a request to Herkimer College President Cathleen McColgin regarding the creation of the plaque, Lenarcic highlighted the work the committee members put in to bring the project to fruition, including extensive fundraising. The College's board of trustees approved a resolution to add the plaque on June 29, 2020, and the piece was unveiled on November 12. It was funded by the Herkimer County Hunger Coalition.
The Veterans Memorial Park was created on campus in 2005 and is located to the right of the entrance to Paul Wehrum Stadium. It features a granite monument etched with more than 650 names of Herkimer County veterans. The new plaque is mounted on a pre-existing large stone that marks the entrance to the park.
Lenarcic said, "I'm very grateful to President McColgin and the College Board for allowing a plaque to be placed at Veterans Memorial Park recognizing the members of the committee responsible for the building of the park. Also, I'd like to remind the public that opportunities are still available for names to be added to the monument."
For more information, visit herkimer.edu/vets-park.