Learn
» Programs & Majors
Early Childhood A.A.S.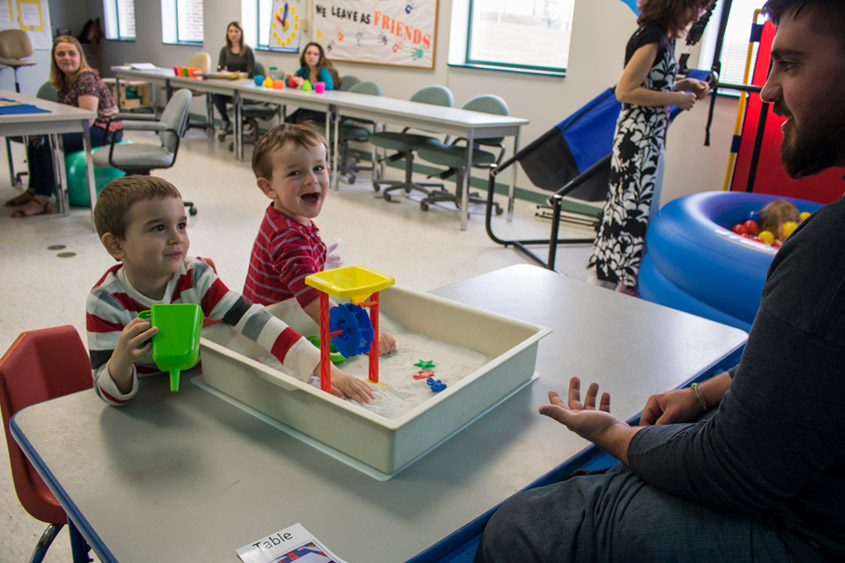 Apply Now
Request Information
Prepare for a career teaching young children.
As a graduate of the Early Childhood program, you'll be prepared to:
Interact with young children in a professional, supportive and nurturing manner
Plan and maintain a safe and healthy learning environment
Design an implement developmentally-appropriate curricula
Observe and document developmental progress
Facilitate home-center communication
Cazenovia College Baccalaureate Program at Herkimer College
Herkimer College students who earn an associate degree in Education or 60+ credits with prerequisites, will have transfer status into a Cazenovia College baccalaureate program in Inclusive Early Childhood Education, to be offered on the Herkimer campus.
The part-time program will offer at least three courses each semester, each offered in one of several formats including evening and weekend courses, online and hybrid. For students needing to make up a general education prerequisite, online courses may be available. A final summer course will be completed over two weekends on the Cazenovia College campus. Students will have complete access to Cazenovia's online library and other resources, and will be charged $245 per credit hour for Cazenovia College tuition at Herkimer.
For more information, contact Professor MaryJo Kelley at 315-866-0300 x. 8664 or kelleymj@herkimer.edu.
Featured Graduate
Kristy Wallace loves building a positive rapport with all of her students. "It makes learning enjoyable and helps with classroom management," Wallace says.  "I also love that I am able to give back to the youth of my community and provide them with the knowledge that they will need outside of school."
Wallace is a senior at Utica College and works as a teacher's aide at UCP.   As a student teacher, she plans lessons based on Common Core and the needs of her students. Wallace ensures she creates a safe learning environment for her students by always making them feel welcomed and cared for.
"My experience at Herkimer will be something that I will always treasure," Wallace says. "My professors always made themselves available to help with anything I needed." She also remembers Professor Kelley fondly.  "She taught me more than just how to plan lessons; she taught me what the true meaning of teaching is."
Transfer Agreements
Below is a list of transfer agreements we have established (for our Early Childhood A.A.S. Program) with four-year colleges & universities to provide a seamless transfer of credits.
Programs also offered online are denoted by asterisk.*
Job Opportunities
Graduates will be prepared to accept positions ranging from Teacher Assistant to Teacher in Child Day Care Centers, Preschools, Head Start programs and a variety of other early childhood facilities.
Program Map