James A. W. McLeod, J.D.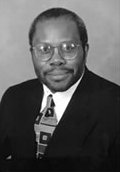 Class of 1969
Inducted: 2000
Law
Utica Free Academy graduate James McLeod was a member of Herkimer College's first graduating class, serving as the inaugural president of the Student Senate. He earned a B.A. degree from Fredonia and the Juris Doctorate from Buffalo School of Law. He was admitted to the NYS Bar in 1975; the Western District and Northern District of New York Federal District Courts and the U.S. Second Circuit District Court of Appeals in 1976.
In addition to extensive private practice, McLeod's career includes serving as a County Family Court Hearing Examiner, Assistant County Attorney, Public Defender and Confidential Law Clerk for a State Supreme Court Judge. Active in his community, McLeod serves on the YMCA Board of Directors, as legal counsel to the Buffalo Urban League, Buffalo chapter of the Southern Christian Leadership Conference, Black Leadership Forum on Buffalo, and Irish Classical Theatre Board.