Shane Hurlbut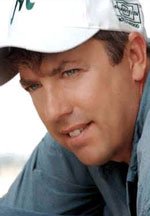 Class of 1984
Shane Hurlbut Inducted: 2008
Radio-TV Broadcasting
Shane Hurlbut, an award-winning director of photography, pursued a degree in film from Emerson College in Boston. His willingness to get hands-on experience as a technician for commercials and music videos early in his career helped him build important relationships with cinematographers and musicians. Feature work followed, and his professional accomplishments span genres of film enjoyed by generations of audiences who have laughed, learned and gained life lessons because of his films.
His contributions to the film industry include comedy, drama, romance, and action thrillers. HBO's award-winning biopic "The Rat Pack," directed by Rob Cohen and starring Ray Liotta, Joe Mantegna and Don Cheadle was Shane's first feature. Shane's creative talents have been sought by actors and directors alike because of his ability to take stories and ideas and bring action-oriented vision to them. In 2004, actor/director Bill Paxton selected Shane to bring the sport of golf to life, which he did in "The Greatest Game Ever Played," which is based on the best selling book by author Mark Frost. More often than not, actors and directors who work with Shane once will reunite with him again and again because of his ability to tell a compelling story that engages viewers of all ages.
The words, 'critically acclaimed,' often follow descriptions of projects Hurlbut has been involved in, including the romantic drama "Crazy/Beautiful," and the hit film, "Drumline." Shane's recent works include the highly acclaimed sports drama, "We Are Marshall," and a "Swing Vote," which is Kevin Costner's next feature scheduled for a fall 2008 release.