Herkimer Professors: The Inspiration for His Success
Ryan Doyle
Class of 2007, Corporate Operations Engineer for Google
---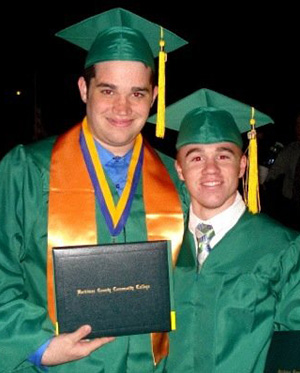 Ryan Doyle, '07, had an impressive run at Herkimer College, holding the president's chair for the Phi Theta Kappa chapter, earning a SUNY Chancellor's Award for Student Excellence, as well as maintaining a 4.0 GPA before moving on to Rochester Institute of Technology. There, he earned yet another 4.0 for his B.S. in Computer Networking Administration with a minor in Criminal Justice, next entering Google's Information Technology Residency Program. Now, as a corporate operations engineer for Google, he still remembers Herkimer as the place that started it all.
"It's a funny story of how I got to Herkimer, to RIT, to Google, actually," Doyle recalls. "One of my best friends went to Herkimer for a year and told me what a great experience he had, and suggested that I enroll at Herkimer as well. It was there that I met Jason Sims, who is also a Herkimer alumnus. Throughout my two years at Herkimer, Jason was also my lab partner and in a lot of my classes. Afterwards, we both ended up going to RIT together, where we were roommates. He started a job at Google, in the Information Technology Residency program. He actually referred me to them."
Google, named the best place to work by both Glassdoor and Fortune in 2014, runs a residency program that allows participants to get work experience in their field offices at home or abroad. "Out in Mountainview, California, where Google's main headquarters are, I pretty much provided support for all internal resources and applications," he explains. "We troubleshot systems varying from Linux, OSX, Windows, and Android. It's hard to describe in just brief terms, but we supported everything internal to Google." It is a competitive program to get in to and excel in, yet Doyle managed to do just that. From there he was offered the full-time position that he still holds today. So, how did Herkimer help get him there?
Doyle thanks his professors for their hand in his success. "The Computer Network Technician program at Herkimer is actually really excellent. I owe a huge thanks to Professor Ted Schiros and Professor John Cook. Their program gave me a great foundation and I was able to use that and build on those skills when I went to RIT. I was ahead of certain people that may not have had that experience." He cites the hands-on experience and personalized attention that Herkimer offered as a contributing factor to his love for technology. "With Professors Schiros and Cook, they sparked my interest. They did a really great job of getting me interested in the work, getting me motivated and passionate about the field."
Herkimer College is lucky enough to still employ John Cook, who runs the same program that Doyle was a part of years ago. Sadly, Ted Schiros passed away in 2008, but his legacy clearly lives on in the impact he had on his students. "Excellent teachers, excellent mentors, really," Doyle stresses. "You could tell they really cared."
Doyle leaves us with a clear piece of advice, pointing out that success doesn't come easily. "Do what you love and work hard for it. College is the launching point of your career, make sure you put in the time and effort required."