Alumni Stories
Avery McLemore
Class of 2014, Physical Therapist Assistant
---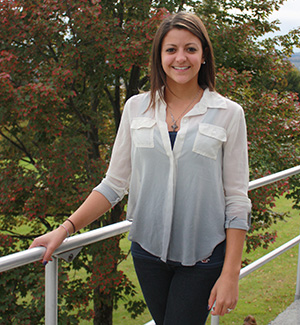 Avery McLemore served as president of the Student Government Association and as student trustee on the Board of Trustees. As such, McLemore was the voice of the students and had an active role in decision making at the board level.
McLemore also served as president of the Physical Therapist Assistant Club and was recipient of an Outstanding Leadership Award for Herkimer College and the SUNY Chancellor's Award for Student Excellence. While at Herkimer, she volunteered for the Breast Cancer Awareness Walk at the Masonic Care Community and for the Herkimer Mini-Park cleanup. McLemore is currently working for Lutheran Care Center through a private contractor and for Northern Dutchess Hospital as a physical therapist assistant. She is responsible for treating patients of all severities of injury, assisting them to become independent and reach their physical and functional long-term goals and return home. "I absolutely love what I do," said McLemore.
McLemore said Herkimer College helped prepare her for her profession by requiring on-site observations, clinical rotations and projects where she would go to different types of facilities exposing her to a variety of environments, such as cardiac rehab, aquatic therapy, pediatrics, wound care centers, and outpatient and inpatient facilities.
McLemore attributes her experience as a student leader in the PTA club, student government and the Board of Trustees taught her how to handle situations, listen to others' opinions, work in large groups of people and solve important issues fairly. "I work with adults who have been in the field for many years and are much more experienced than me, but by being on the Board I have learned how to not feel as intimidated, to not be shy and speak my opinion, ask questions and learn from anyone I encounter. I take advantage of working with people who have more experience and now look at it as a great learning opportunity versus feeling afraid or inadequate," said McLemore.
McLemore said, "My experience participating on the Board was great! All the meetings I felt just as important as the person next to me. Everyone was very welcoming and eager for me to learn the ropes. It amazed me how much the Board members really cared about having a student voice. At commencement when I was giving my speech to a gymnasium full of people, I felt a sense of comfort knowing the Board members were sitting right behind me at that very moment cheering me on."
McLemore's goal for the future is to one day earn a Doctorate of Physical Therapy and to open an outpatient physical therapy facility. "I want it to offer a variety of treatments and techniques I have learned from my experience at different facilities. I feel if I combine all the good things that I saw patients appreciate into one place, it will go far!"