Alumni Stories
Jason Doi
Class of 2006, General Studies, A.A., Herkimer College
---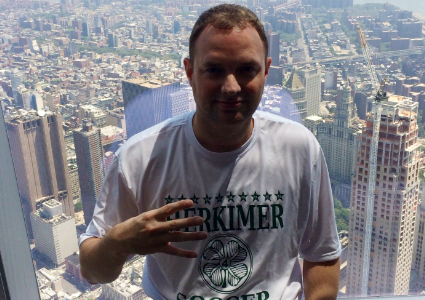 Originally a physical education major in the late 90's, Doi returned to Herkimer in the summer of '05 to take one last class to complete his degree in General Studies. Doi was recruited to Herkimer, as a soccer player, several years earlier.
Soccer coach Pepe Aragon remembers Doi fondly as a member of the 1998 and 1999 teams, where he played a major role in helping them win the national championship in '99. "I am not surprised at all of his current success. He continues to take the work ethic he had on the field to his business world. He is a class act and I am proud to have coached him." That work ethic has transferred well into his new career as a financial planner in New York City.
"AXA is the world's largest insurance company, number one insurance brand six years in a row," Doi explains. We do holistic financial planning, so everything on the financial spectrum . . . I oversee a team of advisors, not only assisting my clients with their goals for either retirement or protection, but I'm also building a team." So, how did this former PE major end up as vice president of the largest insurance firm in the world?
After Herkimer, Doi moved around a bit and attended a few different schools. Nothing really worked out. "I didn't know what I wanted to do. I moved down to New York City in 2005 at the age of 25, really just for some opportunity."
He found opportunity in the form of a small, independent brokerage firm. At first, it seemed like a place to earn a paycheck while he searched for a "real job" until Doi realized what he could do in the industry. "I saw somebody make a lot of money in one phone call. It really changed my life at that point, and I took that opportunity seriously." From then on, Doi studied everything he could to learn more, opened more accounts than anyone else in the firm over one summer, and was recruited by MetLife financial planning group. For seven years, he built a successful business with MetLife and was eventually contacted by AXA.
Doi wasn't looking for another job when AXA contacted him because he'd become successful already, separating himself in his field with important designations and building an impressive reputation. In the insurance industry, designations mark you as a standout, and Doi had already earned his LUTCF, CRPC, and RICP.
AXA waited 13 months for him to accept their offer. He still remembers his first meeting with the managing director: "It's funny when you have an interview for a job that, one, you don't want, and two, you don't need—you can go in and say whatever you want. So I went in and gave him an earful of how I felt about the industry. What I liked and what I didn't like, managers I've had that I liked or didn't like. After I gave my spiel or rant or whatever it would have been, he looked at the recruiter—I remember the look on his face—and he said "Wow, this guy's a manager." From that point they were pursuing me for eventually the vice president role: to come in, not only still doing what I was doing and working with clients and assisting them, but now to build the team, now to bring in young advisors and share my enthusiasm and my stories and the ways that I've done it." It was just over a year from his beginnings at the company to his title as vice president. "I moved up quickly once I was here at AXA because I had thought out all the steps that I was going to take prior to making the move. I came here with the mindset that that's the position I was working for."
While he's clearly dedicated to his work, Doi makes time to play soccer in a city league, even escaping to his hometown of Oneonta every now and then. "I love to get out of the city, especially in the summertime—get back to wearing sandals and baggy shorts, smell the fresh cut grass and the barbecue grill—there's nothing like it!" As for Herkimer, he also makes it a point to return whenever possible. "Playing with the team and playing with Pep, it was a great experience," he says. "I still make it up for alumni games as often as I can, almost every year. It's a great family to be a part of."