Alumni Stories
Mike Mason
Class of 1986, Business Administration, A.S., Herkimer College
---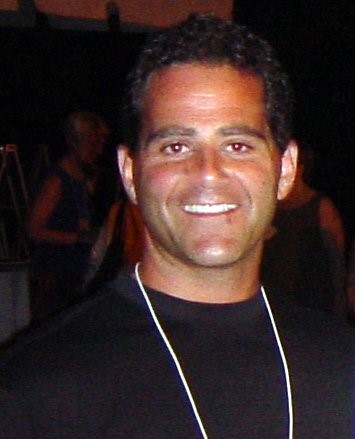 Mike Mason does not have the typical position of an auto dealership co-owner. In fact, most sports enthusiasts would give up a lot to be in his position. Mason '86 is the co-owner and managing partner of the Michael Jordan Nissan auto dealership in Durham, NC. As such, he not only sells cars and runs the operations of the dealership, but also works on business plans with Michael Jordan, the basketball superstar whose 15 seasons with the NBA have earned him numerous awards and accolades. Still, Mason considers himself an average person. Growing up in Herkimer, NY, Mason was a pretty typical kid with many hometown memories – from playing sports to working at the local Friendly's.
As a teen, Mason's career dreams mirrored that of many high school students – to play professional football. But it simply wasn't going to work. "You find out that you just aren't built for it," he explains. So although he continued to coach football throughout his college years, he turned his academic attention to his childhood dream of owning his own business. "My father was a business owner, so it was sort of an obvious choice for me."
Mason's father, Professor Emeritus Irving Mason, taught business at Herkimer County Community College. Both Mason and his future wife Karen (Miner) Mason, '86 took business classes from him while earning their degrees. Mason graduated with a Business Administration degree from Herkimer in 1986, and then received his bachelor's degree in Business Management from SUNYIT.
After graduation, Mason decided he needed a change. "I sort of put my finger on the map," he admits. "I wanted to go south, but not as far a Florida." So Mason and his wife began interviewing in the Greensboro, NC area. "I started interviewing around, and the last day I was interviewing I went to a car dealership. My wife said, 'Are you going to sell cars?' and I said, 'No, not really; I'm just interviewing'." But after talking with his dad about the offer, Mason did accept the job with Crown, a large auto group in Greensboro.
He was good at his new job, too – during his first nine months at the dealership, he was the "salesman of the month" every single month.
But his heart was still in Herkimer. "I guess I got kind of homesick," he admits.
He spoke of his decision to return to New York one day with a friend, the finance director of Crown. "He said to me, 'Before you do that, I want to tell you about what's happening down here. How would you like to own a car dealership?' and I said, 'I don't have money to own a car dealership'." But in 1989, at the age of 23, Mason, his partner, Ray Vrscak, and Jordan purchased the property that would become the Michael Jordan Nissan.
Over the years, the group opened a second Nissan dealership and a Lincoln Mercury dealership, both of which have since been sold.
Most people would be thrilled to have met – let alone work with – a star like Michael Jordan. But Mason doesn't see it that way. "I don't look at it like most people," he says. "He's just a regular guy…I see him just as Michael. He respects the fact that we don't bother him and we respect the fact that [he lets us run the business]." But that doesn't mean Michael Jordan is entirely hands-off. "He's nothing but supportive," Mason asserts. "He's very engaged in business. He's a good business person."
Do Mason and his partner see Michael Jordan very often? "He's pretty busy running a basketball team," Mason says. But he and his partner have been invited to weddings and birthday parties, and one of the biggest honors was when Jordan invited Mason and his wife to his Hall of fame induction. "It's interesting; you get to see a lot of celebrity types."
Michael Jordan also stops by to talk about the business and chat about sports.
And the dealership is flourishing. "We just redid the place; we gave it a real facelift," Mason says proudly. "With its new look, it's been rated one of the best Nissan dealerships in the country."
The dealership sells about 250 cars each month, thanks to the leadership and the outstanding sales team.
"We have a lot of good people from [the Herkimer area and the College] working here," Mason says. The general sales manager of the dealership also attended Herkimer College – Rick Simonette. "I kind of consider my wife and myself 'pilgrims' here [since so many family and friends have come to live down here with us]. My niece works here now." Mason's parents, sister, and in-laws still live in Herkimer.
"I still try to give back to the Herkimer community…I live in North Carolina, but I sponsored a girls' softball team in Herkimer," he laughs. Several of his friends from the area have had cancer, so he has helped them financially. "I try to help in every way I can."
As a young adult, Mason thought of entering the restaurant industry. "I worked at Friendly's Ice Cream forever," he remembers. But life didn't turn out that way. Still, he believes that the two industries are closely related. "I think the restaurant and car businesses are very similar. Some of our best employees are from the restaurant business. They're used to the hours and [working with lots of different kinds of people]."
Does he want to return to Herkimer? "I'm trying to get the rest of the family to move down here, one person at a time," he jokes. But no matter where he lives or what celebrities he meets, Mason has left a piece of his heart in Herkimer and continues to see himself as part of this community.