Alumni Stories
Brendan O'Connor
Class of 2007, General Studies, A.A., Herkimer College
---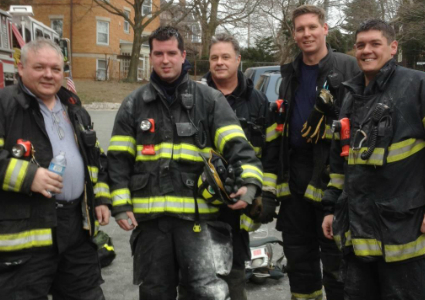 "I grew up in Brookline, Massachusetts, and every year we played a team in Cooperstown," says baseball alum Brendan O'Connor, '07. "Coach Rathbun came out, and I don't really know how we even started communicating. Somehow he found me and we got linked up, and it was the best match. He came and saw me play one time…I don't even really think I had a great game, but he saw something in me."
As new Herkimer College baseball Coach Jason Rathbun's first recruit, O'Connor was instrumental in leading the team to their first Region III Championship and earning them a place in the Division III NJCAA College World Series. He graduated from Herkimer College with a Liberal Arts and Sciences: General Studies A.A. in 2007, but he feels that he took more away from the experience than just a degree.
Just out of high school, O'Connor admits that he was unsure of his future. "I was looking at a few places," he says, "but I didn't know what I really wanted to do, and Coach Rathbun explained that I could go to a community college and make myself presentable to go somewhere else after two years. That really did make it an easy decision."
O'Connor was Coach Rathbun's first recruit. "As a shortstop and a pitcher, we believed he could be a key piece in us building a program," said Rathbun. O'Connor started two years at shortstop and won a huge game in the Regional Final Four on the mound tossing a gem against Mohawk Valley and capturing the first ever Herkimer baseball regional title.
Like his mentor, O'Connor is a baseball and basketball coach in his hometown, recently beginning a job as junior varsity coach at Brookline High School. His day job? Firefighting, just like his father and grandfather before him. "I grew up with my dad as a firefighter. I wasn't even sure [becoming a firefighter] was what I wanted to do until it really happened." O'Connor explains. "It took a few years, so I've been coaching sports throughout the whole process on and off." He's been a full-time fireman with the Brookline Fire Department for two years now, and says he's happy with the ability to contribute to his community through the Fire Department and coaching at the same time.
O'Connor cites his former coach as a source of inspiration and his biggest supporter. He's decided that he would like to continue being involved with coaching in the future, even if he starts a family, and he looks at Rathbun as a role model. "To this day he is coaching, even though he has a family of his own. It keeps me thinking that, 'Wow, maybe I can do it someday!'." Even as the years have passed, he says that their friendship has never faded. "He was young and cool and we had a lot in common, so we hit it off immediately. I gave him a shot and he gave me a shot, and it really built. It's great, we're still friends."
Rathbun said, "He was a great kid with a great family and he really grew up in his time at Herkimer. To move on to becoming a fireman in the heart of Boston, carrying on the O'Connor family name, is something that I am much more proud of."
O'Connor looks back at his Herkimer experience with pride, and says he would do it all over again if he could. "A two-year school is absolutely a great option for many people. You can really step back and evaluate a lot of your life. It doesn't work for everyone, but it worked for me and everyone I'm associated with from Herkimer."