Alumni Stories
Erin Kovatchitch Frias
Class of 2002, Fashion Buying & Merchandising, A.A.S., Herkimer College
---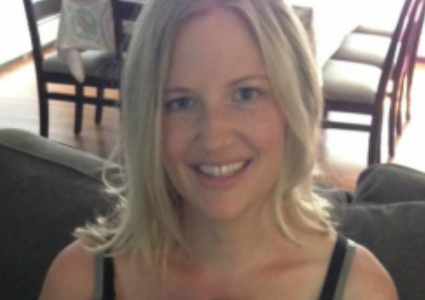 Erin Kovatchitch is a national sales manager for Raoul, the Singapore-based upscale fashion company. The company in itself has its share of accolades. Celebrities across the world have worn Raoul clothing, including Kate Middleton on a visit to Singapore, Viola Davis at the 3rd annual Governors Awards, Kourtney Kardashian at an Elton John AIDS Foundation Academy Awards Viewing Party, and Good Morning America's Amy Robach on numerous occasions. The company also won the world branding award in 2014-2015.
However, for Kovatchitch, Raoul is more than upscale priced clothing for special events and celebrities: it's her every day job. "I got my associate degree in Fashion Buying and Merchandising at Herkimer County Community College," Kovatchitch relates, "then I went to FIT —the Fashion Institute of Technology —in New York for my bachelor's degree in Fashion Buying. I think it was like most students after college – it was hard to find a job. Everyone wants experience in the field." Kovatchitch finally landed an entry-level job as a buying associate for TJX Companies, which owns a number of stores including T. J. Maxx, Marshalls, and HomeGoods. "I assisted the buyers in various departments; hand bags, home goods, and clothing. But there's a lot of math in buying. I wasn't sure I wanted to stay there." So she left TJX Companies and moved into Wholesale. "I love it," Kovatchitch says. "It's ever changing, you get to travel a lot.
As a national sales manager, I sell the company's products direct to the stores and manage a team of sales representatives stationed in Dallas and Atlanta. I'm over the whole process – I get to see it through from the beginning of development to the end when it hits the stores." She gets to interface with customers directly and manages sales across the US, Canada, and South America. At Herkimer, Kovatchitch best remembers Professor Emeritus Janice Jenny from the Fashion Buying and merchandizing program. "Mrs. Jenny was my mentor. She was amazing. She took us on a field trip to the city [New York] and we visited so many different companies. She was also the one who helped me get into FIT. I owe a lot to her." "It's a good school," she recalls. "When I graduated high school, I wasn't sure what I wanted to do. I'd always liked fashion, so I got into it at Herkimer." A hometown girl, Herkimer County Community College might have been the obvious choice, but for Kovatchitch it became the springboard for a long-term career in a field she loves.