Elias Succeeds at Business and Social Mission
Frank Elias
Class of 1988, Marketing A.A.S., Herkimer College
---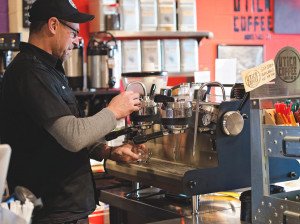 Frank Elias '88 put his degree and practical experience to good use when he started the Utica Coffee Roasting Co. in Utica, New York, 12 years ago. "It was a social mission as well as a business," he explains. "It's a for-profit business, but we wanted to help revitalize downtown Utica. And we've succeeded at that."
The company began in 2005, "with a roaster and a couple skids of beans – green coffee beans" in an abandoned store front in downtown Utica. "We saw potential, we saw that nobody else was going to invest, and we saw a lack of opportunity for young people to obtain meaningful jobs. If nobody else was going to do it – we were."
Elias roasts the beans in small batches to create a signature premium coffee, careful to bring out each type of bean's unique characteristics. He then distributes the beans to shops and stores, or brews coffee to sell at his two locations in Utica and Clinton. "It's fresh, and it shows," Elias says. "It doesn't have a bitter flavor – it's sweet, and almost juice-like."
His two locations are popular with locals and visitors alike, ranking in the top 15 of more than 160 restaurants in Utica on TripAdvisor with a Certificate of Excellence. Visitors comment on the friendly staff and personal atmosphere. As part of the company's desire to help revitalize local societies, Elias opened a second shop in Clinton in 2015, hoping to draw visitors to the village for day trips.
Keeping a local atmosphere, he has experimented with brewing methods developed at local colleges and universities, although all of the coffee roasting occurs at the Utica location. "We've created a niche-type of business that takes advantage of global opportunities and brings it home locally." Even when branding and promoting the business, including creating a logo, slogan, packaging and artwork, Elias has used local organizations.
Elias purchases the green, unroasted beans from across the globe, including Brazil, Costa Rica, Ethiopia, Sumatra, Peru and Tanzania. After roasting, the beans are packaged or ground and sold. He also creates unique blends, which he enjoys giving titles that reflect his home state as well as the blends' characteristics: Adirondack Blueberry, Cannoli, Gingerbread Biscotti, New York Empire, and Jamaican Me Crazy.
The company has expanded its offerings to include sandwiches, bread and pastries from a local bakery (Utica Bread), as well as smoothies and branded gear with the company's slogan, "Wake the Hell Up."
In 1988, Elias graduated from Herkimer College with an associate degree in Marketing. "The culture of the school was small, personal," he says. "The personal relationships, the personal aspect, really makes Herkimer stand out." The professors were also helpful to him; even now he notes that they remain as personal and helpful as 30 years ago.
After graduation, Elias went on to Clarkson University for a bachelor's degree in Industrial Management. He landed a job in manufacturing at a medical supply company, then worked in distribution at Coca-Cola Company. He returned to Herkimer College in 1999 to aid in training, workforce development and community relations. Before starting up Utica Coffee Roasting Co., he also worked for the Mohawk Valley Chamber of Commerce and as himself on the morning talk show "Talk of the Town with Mark Piersma and Frank Elias," as well as earning an MBA in International Business from Clarkson.
"I used all that background when starting [Utica Coffee Roasting Co.]," he explains, "and a lot of the stuff I learned while earning the marketing degree." Using his marketing degree fundamentals, Elias created a brand that said it all in one picture – quality, innovation, and hometown pride. Experience and theoretical learning became increasingly necessary as he took his new product to grocery stores in the greater Utica area. "You've got to have a good product – but you also have to design packaging that protects the beans and is presentable. It's got to be priced well, and promoted, and delivered. Beyond all that, it's got to be fresh and properly labeled with the right UPC and so on."
The personal aspect Elias noted at Herkimer College also influences his company. Recently he hired a Herkimer College graduate. "She started as an intern – she's fantastic. I can't begin to say how important it has been to work with a group who really believe in the brand, the image, and what we wanted to become." Visitors often comment on the personal atmosphere that pervades his shops.
"The personal is a part of the culture," Elias says. And in premium coffee, personal is part of being exceptional.