Captain Crim Retiring After 20 Years of Service to his Hometown
Jeffery Crim
Class of 1992, Criminal Justice, Herkimer College
---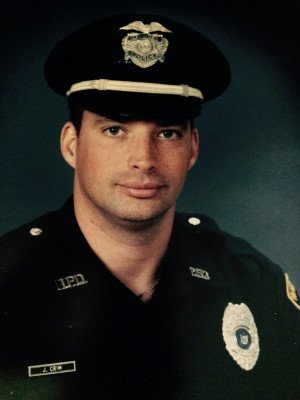 Herkimer born and bred, Captain Jeffery Crim ('92) has long served his hometown, keeping it a safe place to live and raise families. Beginning as a police officer in 1996, he joined the Herkimer Police Force the next year. From there he "worked his way up the ladder" to Investigator in 2009, a position he held until becoming captain of the Herkimer Police Department (HPD) in 2014.
"It's mostly been day to day dealing with the people in my community," Crim says. "That's the best part of my job."
Crim graduated from Herkimer High School in 1989. His teachers recommended he apply to Herkimer County Community College in the Criminal Justice program. "The college staff laid the groundwork for my career. They inspired me, that I could help the public." This preparation went deep into the impressionable young man, an underpinning that would shape his life, focus, and career.
After graduation in 1992, Crim attended SUNY Brockport before returning to Herkimer, where he was hired by the Sheriff's Department where he worked for five years. "While I was there, I became a certified police officer. I became a full-time police officer in 1997."
From officer, Crim became an investigator in 2009, after Tim Rogers retired from the position. Rogers is now the College's Director of Campus Safety and remembers Crim well. When Crim was promoted to the job, Rogers continued to work part-time, and the two occasionally worked together. "We met while working at the HPD. I was a sergeant, and he was a rookie cop. He jumped right into the investigator job. Usually, an officer will become a sergeant, then an investigator. But he moved right from officer to investigator," said Rogers. "I helped with his drug work," Rogers recalls, "like when he was hitting an apartment or house. I was the driver of the bus a few times for SRT."
As an investigator, Crim dealt with a variety of cases, though much of his work centered around drug issues within Herkimer. "He did a great job. There have been a lot of good outcomes," Rogers says of Crim. "He grew tremendously in each position. It's been nice to watch him progress, even today."
Crim was promoted to captain in 2014, trading the more rigorous investigator position for a more administrative role. "It's the day to day dealing with the people in my community that has kept me here," he says. "I've been offered other jobs in other places, but that's what keeps me here." His duties as captain have included setting up training for new police officers, which he has enjoyed.
"I wish I had a big story, something exciting. But it's been one long, solid experience," said Crim about his career. With plans to retire at the end of this year, he said, "I'm walking out with no regrets."