Fashion Grad Lands Dream Job Designing Wedding Gowns
Theresa Lazarus
Class of 2010, Fashion Buying and Merchandising A.A.S., Herkimer College
---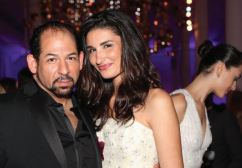 Upstate New York native Theresa Lazarus spends her days doing what many girls only dream of— designing wedding gowns. Theresa graduated from high school in 2007 and enrolled at Herkimer College. Having had both a brother and sister who attended Herkimer College, she knew she wanted to as well. As a freshman, Theresa played both basketball and track while pursuing her degree in general studies. In 2008 she was part of Herkimer's first track team to win Nationals and was soon recruited by SUNY Cortland.
After only one year at Herkimer, Theresa found herself studying business economics at Cortland, but had fashion on the mind. Having always had a love for fashion, she was quick to realize that Herkimer had a fashion program and that her credits from Cortland would transfer back with ease.
Soon enough, Theresa found herself returning to a place she called home to finally study something she had a passion for. "I've always loved fashion," Theresa said, "Mrs. Jenny was awesome. With her, you had to show up on time, and Herkimer really taught me discipline. Herkimer helped me to realize that I was falling in love with what I wanted to do."
After receiving her associate degree from Herkimer College in 2010, Theresa went on to FIT (Fashion Institute of Technology) in New York City and graduated with her bachelor's degree in direct and interactive marketing two years later. While she enjoyed her time at FIT, she credits Herkimer as being the place where she really flourished.
"I needed [FIT] on paper, but Herkimer's program helped me to understand that not only do you need to be creative, but you need to know the business side as well, to be successful in the fashion industry. Herkimer's program was very well rounded." Flash forward to 2014, and Theresa begins to embark on the journey to the beginning of her dream career, one that she continues to prosper in today. She is the assistant designer/production manager at Lazaro Bridal in New York City, where she does everything from designing dresses to handling social media to traveling for sales. She works with Lazaro himself in picking out fabric and plays an increasing role in the company's design efforts.
It wasn't right away that Theresa landed her dream job. She had several different internships with boutiques, an evening wear store, and even a denim company. When a friend notified her of an opening at Lazaro, she knew it was for her. "I realized that I loved bridal. There is a great meaning behind it. You are designing something that women only buy once in their life."
At Lazaro, wedding veils are made on site in New York, and all dresses are manufactured in the city. Lazaro is one of the last companies around to produce their designs within the country. Their dresses are sold to 98 U.S. stores and more than 100 international stores. The brand has been featured on Say Yes to the Dress many times, and Theresa herself has appeared on the show. Theresa hopes to continue doing what she loves for years to come, and although she's living her life in the big city, she will always call upstate and Herkimer College home.