For the Smith Family, Herkimer College has been a family thing.
The Smith Family
---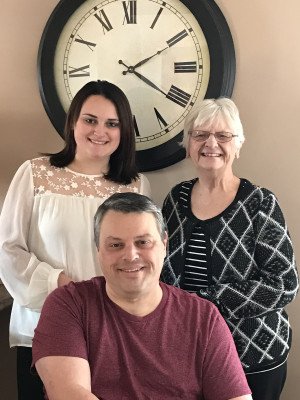 Steve Smith, Class of 1985, Business Administration
Jean Smith, Class of 1986
Zoey Smith, Class of 2016, Early Childhood Education
"My husband said all our children had to go to college," explains Jean Smith, 77, who earned her degree in 1986 while raising four sons and working full-time in the Ilion Central Schools. Her oldest two sons attended Ithaca College; her third son took classes at Herkimer College, and the youngest, Steve, earned a degree in business administration from Herkimer College in 1985.
About the time Jean turned 40, she began to consider college for herself. "I started to think, 'What have I done with my life?' I wanted to broaden my horizons." It took six years of evening and summer classes, but Jean graduated. "I had the time of my life; it was a wonderful experience. My first professor was Ray Osborne. He gave me an A in English 101. I started matriculating. I tried to learn a little bit of everything."
Osborne and Ray Lenarcic were memorable instructors. "They had good personalities. I felt comfortable in their classes. You could say what you wanted. They accepted me, even though I was older. "[The degree] gave me more confidence," Jean says. She continued working for the Ilion Central School District until 2003, and now works as a receptionist in a doctor's office.
It was while Jean was attending Herkimer College that her son, Steve, began to take an interest in the college. His mother's education influenced him, even in high school. Steve recalls taking a high school trigonometry class while his mother was studying the subject in college. "I would help her with trigonometry, and she would help me with trigonometry. They taught the class differently, and I thought her way was easier. So I would take the ideas back to Mrs. Shaul, my teacher. She would say, 'Well, that works, but you need to learn to do it this way.' Apparently, the Regents exams required it be done a certain way."
Jean and her third son took one class at the same time; she in the evening, and he, the next day. "They would say to me, 'Don't tell him what the test was about; don't tell him anything,' so I never told him anything about the class," she laughs.
While Steve and his mother were enrolled in college at the same time, they never took a class together. Jean took classes in the evenings, while Steve had a more traditional schedule – though, as Steve says, "That would have been great, awesome."
"My brothers had taken a different route -- they entered four-year schools. I wasn't ready to leave home yet. I was young. I was 16 when I entered my senior year of high school. I wanted to stay home, grow up a bit." So Steve pursued a degree in business administration. He considers his time at Herkimer College "two of the most fun years of my life."
Steve has many memorable professors including Ray Lenarcic, Irving Mason, Guy Devitt and Robert Francis. Steve would visit the office of Professor Francis once a week to talk football. "We would talk about the Giants, complain about the Giants," he chuckles.
Steve transferred to SUNY Oswego for a degree in teaching. But teaching the business classes of the day wasn't what he wanted to do. "I could have taught shorthand, typing, accounting, business law. I did a few interviews, but everything was shorthand and typing, shorthand and typing." Steve landed an accounting job with a medical company, and then with the Mohawk Valley Economic Development Agency. He now serves as executive director of the Herkimer County Industrial Development Agency. "It's the county I love," he says. The joy of his job is helping local businesses and local people.
Steve's daughter Zoey graduated in 2016 with a degree in early childhood, becoming the third generation of the Smith family to call Herkimer College her alma mater. One of Steve's sons also attended Herkimer College to take classes before transferring to the nursing program at SUNY Morrisville.
Zoey chose Herkimer College for a number of reasons. "I wanted to stay local. I had jobs. And the price – staying local made sense." Her favorite professor was MaryJo Kelley. "She was fun, engaging. She makes me want to learn, want to be a teacher."
Zoey currently works at the Children's Center while pursuing a bachelor's degree in early childhood education with a minor in special education through Herkimer College's bridge program with Cazenovia College. Her goal is to teach preschool.
Zoey also works with children outside of the classroom, teaching cheerleading to the CNY Storm All Star team in Syracuse and CNY's Sunshine Cheer, the special needs team. "We try to challenge them and push them," she explains. "They just love it. Their enthusiasm and joy to be here every practice – it's like no other."
"Herkimer College is the foundation for where I am now," Steve says, but he speaks for all of the Smith family. Three generations with different goals and different careers, but all found what they needed to succeed by beginning at Herkimer College.